Robbers On High Street
Tree City (New Line Records)
By: Alex Steininger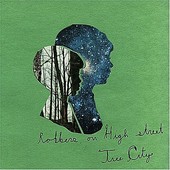 If you're looking for a band that can write a memorable pop song, beautifully layered and carried out with more-than-supple hooks, but isn't afraid to rock out, too, than Robbers On High Street is your band.

Tree City contains songs like "Love Underground", a straight-ahead, hooky-rocker, alongside such songs as beauty as the piano-pop number "Spanish Teeth", or the garage-rocker "Amanda Green". It seems no matter what they touch, they do it right; with style, substance, and plenty of bite.

Robbers On High Street remind you why you're a fan of rock. They write delicate beauties wrapped in gritty rock blankets, fierce rock songs snuggled in pop kindness, and anthems galore to sustain you throughout the entirety of the album. What a pleasant surprise. I'll give it an A-.