Regina Spektor
Soviet Kitsch (Sire Records)
By: Alex Steininger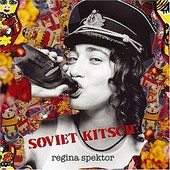 After touring with the Strokes and selling thousands of CDs on her own, New York-based singer-songwriter Regina Spektor caught the attention of several major labels, before signing with Warner Bros.-owned Sire Records, who decided to re-release her last full-length, Soviet Kitsch.

Piano-rock with a quirky pop element, Regina Spektor's material also incorporates elements of punk, if in attitude, not style. As is demonstrated on the second track, "Poor Little Rich Boy", a fierce number that finds the song going from a mellow piano-pop song with sticks on wood as a percussion instrument before turning up the pace and spitting out a few fast-paced lines, and proclaiming in the song several times over, "you're so goddamn young".

That is contrasted by a moving beauty like "Carbon Monoxide", a building pop song that begins with just Spektor and her piano, reeling you in with a classical-gone-pop base before guitars and drums enter, allowing the song to breathe a bit and embrace it's rock leanings.

The two sides of Spektor, the rock and the classical, come together so well on "Sailor Song", with her punk mindset bleeding through too. Singing "Maryanne's a bitch" as she fuses unconventional pop smarts against a rock 'n' roll heartbeat, Spektor is on fire.

But, if you thought she couldn't get any more punk, she drops the pop altogether on "Your Honor", with dissident guitars buzzing as she leads the band through a slicing punk number, quirky interludes dropping the intensity down before picking it back up and kicking your ass.

Avoiding pigeonholes and stereotypes, Spektor's Soviet Kitsch epitomizes the album format, as she avoids any one-hit wonder or weighted pop songs padded by filler, and delivers a record, from start to finish, that, to be fully enjoyed, should be played -- at maximum volume -- in the order in which she serves it up. She's one tough cookie, too, but she backs it up so well. I'll give it an A+.