Rachael Yamagata
Happenstance (Private Music)
By: Alex Steininger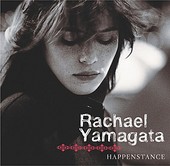 Piano-driven pop songs rich in melody and emotion, Rachael Yamagata's Happenstance is a full, layered, well-written collection of warmth and beauty. Brewing with her soulful voice, Yamagata turns an ordinary pop number into an awe-inspiring piece of art. Much like how a chef can turn everyday food items into a culinary delight, Yamagata turns simplistic instrumentation into peaceful, heart-stopping songs that turn heads and make you go, "Who is that?" before inquiring more and discovering the talent and charm of Yamagata.

Happenstance is a stunning debut. A slow-burning, relaxing journey through fourteen songs that recall autumn, walking down a street with leaves everywhere, kicking them up in the air and watching them fly around, putting the easiest of smiles on your face. The wind blowing your hair, your jacket wrapped tightly around you while you soak up the atmosphere and think to yourself, as the beauty encapsulates you and reminds you of one of the simple joys of life: nature. I'll give this a B+.