Jonathan Rice
Trouble Is Real (Reprise Records)
By: Alex Steininger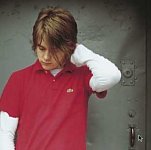 Johnathan Rice's Reprise Records' debut full-length, Trouble Is Real, is a stunning look into the mind of a rising singer-songwriter, as well as a testament to the fact that not all major labels are looking for white-bred fed, bland music to force upon the world. Quite the contrary in the case of Reprise and Rice, as Trouble Is Real may not have a commercial pop hit, but it is well-written, beautifully composed, and intelligent in every aspect of its delivery. On its fifteen tracks, Rice explores many different genres without losing sight of his musical goals, and in the process creates a record that most musicians would be proud to do within their lifetime -- and nails it on his major label first try.

Trouble Is Real opens with the desolate, aptly-titled collage of strings, "Short Song for Strings", and then fades into the early-morning fog of "Mid November", a string-enriched acoustic song that quickly establishes Rice's rich voice before the full-band kicks in and the song turns into a full-blown adult contemporary pop number that has enough of a kick to even appease indie-rock fans.

"Kiss Me Goodbye" then delves into Rice's indie-rock upbringing, fusing power-pop, post-punk rock, and the orchestrated pop of "Mid November" into one tight package. Hook-y, lyrically appealing, and brought to life by Rice's boy-next-door comforting voice, the song soars, and in a fair world would be a huge hit on the radio. But we already know that isn't the case.

"Break So Easy" showcases Rice's ability to place delicate orchestration against acoustic guitars, while "Blood of God" takes it one step further, stripping down the song to its bare essentials, Rice's voice and sparse acoustic filling out the song more than enough.

"Leave The Light On" is solid, straight ahead pop-rock, while "Salvation Day" is soaring modern rock that, once again, should define modern rock radio with its shining production and undisputed musicality.

Delivering a record that is all over the map without sounding like a different band, Rice set out to make an adventurous record, regardless of his label's expectations, and, after hearing it, Reprise welcomed it with open arms. And for that, we all should be thankful, as Rice is one of the most promising songwriters on the scene today. I'll give this an A.