Har Mar Superstar
The Handler (Record Collector)
By: Alex Steininger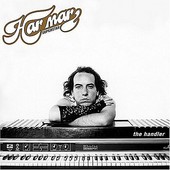 Fusing hip-hop, dance, pop, and soul, Har Mar Superstar, the crazy, mid-30s man who loves to perform in his underwear, and play the sex symbol (though he is completely the opposite), has once again nailed his kitsch act with The Handler, his latest, and first for the Record Collector label.

From the dance-soul of "DUI", to the Motown-esque "Sugar Pie", through the sensual "O", Har Mar keeps you laughing as he's seducing you. There isn't a stale moment on the forty minutes of music found on this 12-track disc.

Love him or hate him-- no, just love him, because he's too silly, too non-serious, and too much fun to just ignore. This is what soul music would sound like if people had fun with it, if people knew how to let their guard down, let their hearts out, and just laugh at themselves.

And that is what Har Mar Superstar has done here, laughed at his own absurdities. And in doing so, creates modern-day sex music for indie-rockers and snobby hipsters alike. I'll give it a B.