Elvis Costello & The Imposters
The Delivery Man (Lost Highway Records)
By: Alex Steininger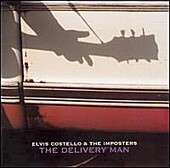 On his first record for Lost Highway, and latest with his band, The Imposters, Elvis Costello comes through with the aptly titled The Delivery Man, as he delivers the goods on this thirteen-track, fifty-three minute album that finds age treating him well.

He's matured, he's not as angst-y, but that doesn't mean he doesn't rock anymore, or can't craft an unforgettable pop song. The Delivery Man is a testament to the contrary, that he still has it, writing simple lines that, when sung by him, make you turn your head and realize the depth of what he is saying.

"Now it's hard to act like strangers, when we used to be so strong. Everything is changing, and most of it is wrong," from "Either Side of the Same Town" is a prime example. While the lines "I wish that I didn't hate you, least not so much as I do. And squander all my contempt for a little nothing like you", from "Needle Time", finds Costello putting his angst into a more mature output, but delivering it with the same vigor and sharpness of the tongue as he has always done.

Still as lyrically moving as ever, the music mirrors this trend.

"Country Darkness" is a jazz-tingled, country-infused piano pop song led by Costello's wailing voice, while "Either Side of the Same Town" mixes elegance with grit, soul and pop coming together in this majestic pop-rock piece.

"Monkey to Man" finds Costello jamming with his band, this bar rocker hoping to its feet with his knack for soaring pop hooks. But the real heart of this song is its danceable, hip-shaking rhythm that will quickly send you to the dance floor.

"Nothing Clings Like Ivy" is laid back and gentle, swaying note to note. Featuring Emmylou Harris harmonizing with Costello, the song is as pretty as it is soothing.

The majority of this record will find you relaxing and basking in the melodies, rather than up and jumping around to some wild rockers. The songs providing more than ample pleasure for you as you sit and take in every nuance. A mixture of When I Was Cruel and North, Costello seems to prefer the piano here as the driving force, but still hasn't lost his love of the guitar. I'll give it an A-.