Butch Walker
Letters (Warm Records)
By: Alex Steininger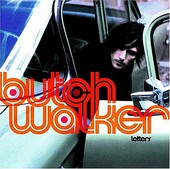 Radio-friendly, endearing power-pop, modern rock, and lush pop join hands gracefully on Butch Walker's Letters, his debut full-length for Epic Records, a fifty-one minute beauty of delicate, hard-rocking, and soulful pop songs all sung in his calming, gentle voice.

"Maybe It's Just Me" is a hook-laden, glowing rocker that has you singing along as you relate to the sorrow Walker sings about, dealing with failed relationships and trying so desperately to hold them together.

"Mixtape" wins points for the song title alone, but doesn't stop there. Singing about losing a loved one to another man, Walker captivates you with a heartbreaking story that has to be one of the most melodic, sing-along anthems of a sad song to come along in awhile. When he laments, "You talk to him, and burns it me like the sun. You talk to her and say that you feel as if he's one", backed by a mid-tempo beat, the strumming of the guitar weeping as the sturdiness of the rhythm section holds everything together - you want to sit back and see how the story ends. And then the soaring chorus hits and all is forgotten and even the sad seems promising and happy.

"So At Last" finds Walker delivering a mellow, beautifully layered pop song, sing-along choruses in tack, while his potent emotions reach an all-new high. "Uncomfortably Numb" contrasts that nicely, as power-pop-meets-modern-rock crashes down on you.

The album hits its artistic high with "Joan", a tender, piano and strings number that builds and builds as Walker tells the story of a woman he knew. As the story unfolds you learn of her past relationship, the abuse, and the fatal end her other half meets so she can get out of the relationship and start a new, better life somewhere else.

Deserving notable mention is "Lights Out", a song that brings a little punk fury into the picture, a swaggering garage-rocker that turns up the heat, but doesn't lose a second of Walker's precious melodic abilities.

Letters is both compelling and fun, a catchy record that will find you singing along and enjoying the music as well as the attention and care Walker put into everything from the smallest of instrument parts to every line. I'll give it an A.