The Makers
Stripped (Kill Rock Stars)
By: Alex Steininger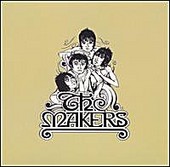 Produced by Jack Endino, and with original guitar player Tim Maker (now known as Timothy Killingsworth) and new drummer Jimmy Chandler. The Makers went into the studio and re-recorded old favorites and unreleased gems 1991-1998, as a prelude to their forthcoming full-length of new material on their new label, Kill Rock Stars.

The result is Stripped, a raucous-filled, garage rock record that helps return the garage rock throne to its rightful owners. With sixteen songs, spanning thirty-six minutes, The Makers create plenty of hip-shaking, drinking man's dance music in this noisy, rock 'n' roll exploration. Boy, does it make my mouth water for their next full-length! More lively, and sounding more powerful than the original recordings, here is a record that blasts pasts expectations and proves The Makers are back in full force. I'll give it a B.