Jay Munly
Munly and the Lee Lewis Harlots (Alternative Tentacles)
By: Jeb Branin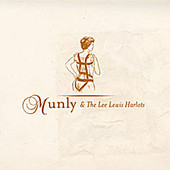 It almost does this album a disservice to try and describe it. Rest assured whatever adjectives I pull out of my hat, they will be insufficient to adequately capture what is pouring out of my speakers right now.

Munly and the Lee Lewis Harlots is an album of larger-than-life proportions. It sounds as if the most grandiose and verbose goth band the scene has ever know decided that what the world of goth rock really needed was a folk band steeped in the traditions of bluegrass.

This haunting opus is both otherworldly and "down home" at the same time. If the rural west has a dark underbelly, this must be the soundtrack for it.

You've likely never heard anything like this but if you are adventurous enough to take a chance, you'll probably find you can't get enough.

Absolutely mesmerizing. Absolutely. The CD comes packaged with a bonus 5.1 channel surround sound DVD-audio version of the same songs complimented by visual imagery. There are lots of hidden extras as well.