Saxon
Lionheart (SPV)
By: Jeb Branin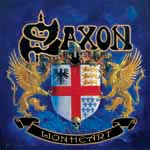 If you were asked to come up with a list of new wave of heavy metal bands that had a greater impact than SAXON, it would be a damn short list. If you only listing bands that were still peddling their wares some two decades plus after the fact, you would be left with a number that could be counted on one hand (and a hand that belonged to a careless carpenter, no less).

For me personally, SAXON has been one of the most significant metal bands ever. Some of their earliest albums were momentous elements in the soundtrack of my teen years. Strong Arm of the Law (1980), Denim and Leather (1981), Power and Glory (1983) and Crusader (1984) all contributed extensively to shaping my taste for heavy metal.

Yes, they succumbed in the late 80s to label pressure for accessibility and their sound suffered, but I never gave up on them and they never gave up on themselves. 25 years later SAXON is still rolling like a "solid ball of rock."

As proof I refer to their latest effort called Lionheart. It's a bombastic album of pure SAXON metal. In fact, the crisp delivery and the classic (yet diverse) feel present throughout the album marks this as their best output in years. It's better than excellent newer releases like Killing Ground and Metalhead. In fact, it's better than, well, anything since their glory days.

Whether the band is ripping through barnstormers like "To Live by the Sword" and "English Man O' War" or exploring textures with "Beyond the Grave" or "Lionheart," they are at the top of their game. Real 80s metal has seen a bit of resurgence as of late and if there is any justice SAXON will be recognized as the stalwarts they are.