Place of Skulls
With Vision (Southern Lord)
By: Jeb Branin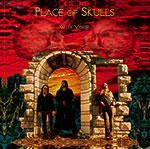 I'm not quite sure why it took me forever to write this review but regardless Place of Skulls has over the years steadily established itself as one of the world's premiere purveyors of oldschool doom.

With Vision only adds to the band's skyrocketing reputation. The album is a clinic on how to execute the genre flawlessly. It's both crushing and hypnotizing. It has groove and growl. It rolls over you like a steamroller but leaves you feeling like it's done you a favor in the process.

Place of Skulls is canny enough to know when to pay homage to the great SABBATH and when to go its own way by infusing infectious hooks into the mix.

If I didn't think it would scare you off, I would tell you that this album has such a keen sense of rhythm that you almost want to dance to it. Imagine if TROUBLE had gotten drunk with LYNYRD SKYNYRD while channeling the ghosts of TEN YEARS AFTER and CANNED HEAT. Yep, near perfection in plastic.