Annihilator
All For You (The End Records)
By: Jeb Branin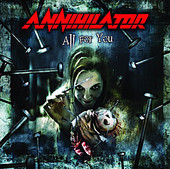 ANNIHILATOR has evolved and mutated over its 15 year history but one thing has remained constant. The band (anchored by founder/guitarist Jeff Waters) always rips out superior flesh rending thrash metal.

All For You continues that tradition with such ferocity and technical precision that I suspect more than one ANNIHILATOR fan is going to call this they favorite recent effort from Mr. Waters and Co.

The album has plenty of variety, dramatics, and melodic counterpoises but what cements it as a "must own" for oldschool thrash metal fans is the unadulterated vehemence with which the band attacks their music.

ANNIHILATOR has always owed a debt to the early and mid 80s Bay Area thrash scene (despite originally hailing from Canada) and they do themselves proud in maintaining the fervor and passion that metalheads associate with that legendary sound.