INTERVIEW: Tegan and Sara
Canadian twin duo discusses new album, tour (Vapor Records)
By: Alex Steininger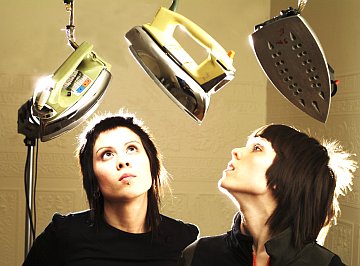 Twin sisters, Canadian duo Tegan and Sara turned the musical world on its ears with the release of 2003's If It Was You, released on Neil Young's Vapor Records in Canada (and Sanctuary Records in the rest of the world).

Now the duo has come into their own with So Jealous, a record that further explores the band's hook-laden folk-pop combined with elements of power-pop and rock. There is nothing timid or meek about So Jealous, its hooks as sharp as its rock appetite, melodies as crisp as its lyrical insight, and harmonies as sweet as the girls making the music.

Helping to get more of a grasp on their sound, Tegan and Sara co-produced So Jealous along with John Collins, David Carswell and Howard Redekopp (The New Pornographers), something the band is very proud of.

"The reason why Tegan and I wanted to co-produce the record was because we record all our demos at home and do all the parts ourselves, and the first record we did with John Collins and David Carswell, they asked us what we needed producers for," comments Sara. "They're very lo-fi guys and heard the demos and said we should just do it ourselves, but told us they'd help us out but didn't think we needed producers."

"It's not like you get a handbook, you learn the industry through a certain way," Sara continues. "We always saw producers as people that oversee the project and have the experience and the know-how to know when you record your guitars which amps to bring in. Guys that can come in and tell you why you should do it this way, or what equipment you should record with, or what guitar would sound better.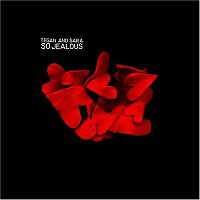 "John Collins is a vocal guru, he's telling you and explaining to you ways to sing better. Letting you know if you're singing sharp or flat, and helping you with harmonies. That to me is a producer, someone that helps with the mechanics and aesthetics of the recording. So we had John and Dave involved. And they had just done the new New Pornographers record. And Howard Redekopp had mixed and produced that record with them as well.
"John and Dave told us they were terrible engineers and very slow. So they suggested we go into a nicer studio, take a shorter amount of time to record the record, and bring in their friend Howard Redekopp. Howard started coming to our pre-production and he was being very vocal, he's a very vocal guy. Tegan and I had pretty much written everything, we were one hundred percent done. There was a very hands-off approach this time, it wasn't like our last record. It was pretty much Tegan or I saying 'do this' or 'do that'. It was really fun. It was like going on the bike without training wheels this time. We had them there, they were walking besides us, but we pretty much did it ourselves in the hopes of us eventually doing our own records."
Even though the duo was done with the songs and didn't need a lot of help with the song structures. They did need help paring down the twenty-six songs they wrote for the record, and the trio of producers helped them select the songs that would make an album, not just a collection of songs.
"We gave the producers the twenty-six songs that Tegan and I had individually written and recorded at home and between the four of us we whittled it down," recalls Sara. "There were a couple strays that John, Dave, and Howard specifically suggested we give a try, songs that Tegan and I had given up on because we had already picked the fifteen that would be on the record."
Once the song selection was whittled down, the duo went into the studio with seventeen songs. From there they recorded fifteen, dropped one, and out of the fourteen remaining had believed they would once again whittle it down to eleven or twelve songs to make the record. But the duo and the production team thought that the album sounded great with all fourteen. So they kept them all.
Reflecting on So Jealous, Sara seems proud that for the first time with a record her and her sister were able to voice their opinions and speak up, ensuring they recorded the record they wanted to make.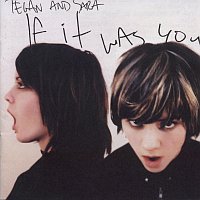 If It Was You was so fun. That was when we met Rob, our drummer, and we jammed finally. We realized we could do that and it didn't have to be just Tegan and I," recalls Sara. "But it was a learning curve too. There was some stuff we wanted to do but we were too shy to say anything. Whereas, everything with So Jealous we were like, 'I'm not too shy to say anything, so let's try it'.
"I think this record sounds more like us and the greatest thing about sounding more like us is that when you get up on stage and do things, play things, I start to think we're really starting to sound like ourselves and less like somebody else. When you start out...", she pauses for a bit.
"I don't think at 18 or 19 you know who you are," she continues. "And I don't think we know who we are right now, either, but I'm starting to hear what we might sound like. I don't know if that's a good thing or a bad thing, but I started to hear that on this record."
One of the contributing factors to finding themselves and start to develop their own sound, according to Sara, was the fact that her and Tegan were able to sit back and select fourteen songs that made the record. Not necessarily the best fourteen songs they had, but the fourteen songs that fit together the best.
"I wasn't worried that these are the best fourteen songs we had. I was worried if these songs would have continuity, that these songs would make sense together, is this going to be a strong record from start to finish?" Sara tells me. "I was thinking in that kind of context. So there are some songs that I think are really, really cool, even better than some of the songs on this record, but we were really thinking in terms of a concept, working together."
During the making of the record there was only one crisis, and it was an identity crisis by Sara, brought on by the duo's newfound status and budget.
"I had an identity crisis because we did our record in a small room and then we went into a fancy studio to mix it," laughs Sara. "And it was going to cost us almost double of what we spent recording the record in a month in a half, and mixing was just ten days and we had fourteen songs.
"The first day we got one song done, so at that rate I realized we wouldn't get done. So, when I say I had an identity crisis, I was wondering if we should be doing this and should we be spending this much money, are we that professional? It was more about that than anything about myself. I didn't know what we were doing in this gorgeous place, which was really homey and it was only one band. We weren't in a warehouse with seventeen bands recording. It was just us. It was really nice, so I had an anxiety attack about spending so much money. I was used to spending a lot less, because the most we ever spent recording a record was $10,000. And that was for everything -- recording, overdubs, mixing, and mastering. On this record, though, we spend double that. This was a bigger record for us. So the second day was hard."
Sara elaborates.
"I had never spent that amount of money on anything. The most expensive thing I've ever bought is my computer. I don't own anything that expensive. I've accumulated stuff over the years and have a bunch of stuff, but just dropping that much money, I had an identity crisis, wondering, 'who do we think we are?'"
Former Weezer bassist and Rentals front man Matt Sharp made a guest appearance on So Jealous, something the duo is quite proud of. However, Sharp's ideas for the record ran wild, making the band choose between going in his direction or continuing on down the path that they were headed.
"We would have had an electro-record if we made it the way he wanted it," jokes Sara. "Which is cool, we wanted to keep his parts true. But I think we underestimated how much he wanted to do. He came in and we told him that if he could do three of four songs, that would be great. And he told us he'd do something on everything. We were like, 'OK!'. He put down idea after idea after idea. Billions of ideas. So we were sitting there wondering what we were going to do."
"For him, he's so particular, and laid down so much," continues Sara. "He had his own ideas, but once we heard it we realized it would take the record in a completely different direction, so we fit him in to areas where we thought it was cool. But, some of his parts, like his part on 'I Know, I Know, I Know,' that to me is totally like The Rentals.
"I feel very fateful that we met him and that he played on our record, because he was a huge influence on us."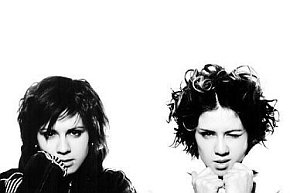 After the record was complete and turned in to their label, Vapor Records had a few suggestions for the band.
"We finished recording the record in May and it wasn't going to come out until September, so Vapor told us that if we had any other material we were thinking of or working on, not to be afraid to bring it out. And we were like, 'What? You don't like what's there? There are fourteen great songs. What more do you want from us?'," recalls Tegan, when the label suggested they write about something other than love.
"They said we were singing a lot about love, and asked if we had anything else we wanted to sing about," she laughs. "We told them, 'Clearly we don't. So back off.' Whatever, I can take that kind of criticism. This is coming from people who work with Neil Young, a guy that writes about everything from his dog to really substantial things. So I can appreciate their suggestions. They said, 'we understand you have this, but do you have any of that'. And I do, I have all those things, but when it comes down to writing, I haven't really gotten over that box yet. So I hope that is what will come with growth. There are some incredible records that inspire me and make me think about that all the time. We'll see. I've written political songs before and songs that weren't about love. But it goes back to the thing of continuity, and I went back and looked at these songs and they were very out of context with the rest of our material."
The duo's future goals?
"If we could have some guarantee of longevity, I'd like to do some more things, more extravagant," suggests Sara. "Not really extravagant, but something like a double record, where Tegan and I would split it, doing something like Outkast did. People are always telling us they can't tell the difference between our songs and I think that is because we approach it as if it is a project that is both of us. And I think it would be interesting to do two side projects and then put it together."
The band is currently taking time off from touring and will hit the road again later this spring/summer to tour the U.S. again.