INTERVIEW: Menomena
Up and Coming indie trio delivers stunning debut, captivates nation
By: Alex Steininger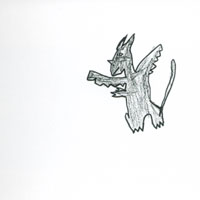 Portland, Oregon trio Menomena - Brent Knopf (guitarist/vocalist/programmer), Danny Seim (drums/vocals), and Justin Harris (saxophone/bass/vocals) - created one of the fastest growing buzzes in recent history with their debut, I Am The Fun Blame Monster. Originally self-released in May 2003, the record is now available via Portland-indie Film Guerrero Records.

Including an 80-page animation flipbook, Menomena garnered attention for their ingenuity of the packaging of their record. The title, I Am The Fun Blame Monster is an anagram for "the first Menomena album", and the flip book reveals this as the words are re-arranged in comical fashion.

"I know it sounds corny, but I literally dreamt the anagram concept. We were having problems coming up with an album title - 'Happiness is Shouting Bingo!' was the current suggestion - and I had this dream about the words "The First Menomena Album" morphing into something else as the pages in our flipbook flipped," recalls Seim. "We decided on 'I am the Fun Blame Monster' because it sounded cute and because it sort of summed up the process of making the album, in a weird sort of way."

Seim, who was working at "a copy machine store where I wore a blue apron and I worked overnight because it was open 24 hours and they were just bought out by a major shipping company," had free reign of the copy machines. Thus he was able to experiment with the paper, "and waste a lot," as he puts it, to come up with the design to carry out their flipbook ideas.

"We came up with the packaging as part of a press kit idea, when we were first trying to get shows in Portland. Brent has a history with animation and Justin and I like designing things. We put our heads together and made about 20 little red flipbooks with a CD of demo songs inserted in the back, and gave them to all the local club booking agents. I still wonder if any of those still exist. They make great notepads, if you're not into the music."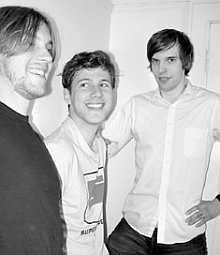 Menomena's creativity in their design and naming of the album was only the tip of the iceberg. They had the music to back it up, too.
Fusing equal parts indie-rock, jazz, atmospheric hip-hop, pop, and even a nod to the ambient, Menomena creates a late-night, spacious, worldly sound encompassing the influences and lives of all three members, making it a truly collaborative effort.
Voted Portland's best new band in 2004 by local weekly Willamette Week, something that surprised the band, the praise didn't stop there. Garnering a glowing review in Pitchfork, an online music magazine frequented by hipsters and music fans alike, a cult following throughout the U.S. began to take shape. The band sold a few thousand CDs outside of the Northwest, the only market, at that time, in which they had performed.
But, Menomena's modest beginnings seemed to hint at something greater than your average band, from the ingenious packaging concepts, to Deeler, a program, short for "digital loop recorder", programmed by Knopf, that helped the band write I Am The Fun Blame Monster.
"Most of the stuff goes right over my head," says drummer Danny Seim when asked about Deeler. "I use computers when I have to, instead of obsessing with figuring out how they work, like [Brent Knopf] does. My understanding of Max MSP [the program used to create Deeler] is that it gives you a template and allows you to build anything you want within this template. You can control everything from guitar effects to stage lighting. From what I gather, you just type up these commands that link up to these other commands that run these programs for you. I've heard it's like playing with electronic Tinker Toys or something. Basically, Brent whipped up this detailed list of actions and commands with Max MSP and called his program Digital Looping Recorder- DLR or Deeler for short. Using Deeler has come to be the only way Menomena can write music. We're all spontaneously creating and riffing off of each other instead of bringing our individually written songs to the table."
"It's pretty simple to use," Seim elaborates. "First, we set the tempo of the click, which is played through a pair of headphones. We then take turns passing a single mic around the room. One of us will hold the mic in front of an instrument, while another one of us will lay down a short improvised riff over the click track. We usually start with the drums. Once the drums begin looping, we throw on some bass, piano, guitar, bells, sax, or whatever other sort of noisemaker happens to be in the room. Deeler keeps the process democratic, which is the only way we can operate."
Recording the original demos purely off of the Deeler sessions, the band then re-recorded the songs that comprise the record. But, even after re-recording the songs and getting a more live feeling for the album, the band, what with each member playing multiple instruments on the recordings, had to figure out how to deliver the songs on stage, in front of people.
"While recording, we didn't really think about the fact that it might be humanly impossible for three people to play all those parts onstage," admits Seim. "It was hard to adapt the songs so that they still resemble the recorded versions when we perform them live. It's a little tricky because Justin and Brent have to multi-task on stage to play all the different parts. I'm having a hard enough time just trying to drum and occasionally sing on rhythm with all the other stuff that's going on. It was difficult at first, but we've all grown more comfortable onstage over the past couple of years. The next time we record we will probably have that more in mind - the ability to play the songs live."
Following the album's initial release, and subsequent (and rightfully so) praise, several labels came knocking. Many of whom saw the band's sound as marketable, but wanted to do away with the flip book and put the album in a jewel case and include liner notes (the current flip book only includes a track listing, with no other information on the band or the album included). Menomena passed on all of them.
"There are a lot of rumors out there about who was interested in signing us and who wasn't," comments Seim. "But it all goes back to the fact that we value creative control over everything. We have so much fun making this music and these harebrained packaging ideas that it's become nearly impossible to compromise to someone else's vision of what Menomena should be. We'd show the flipbook to these labels and they'd be like, 'That's great! But we'll re-release it in a jewel case!'. We found that we were happier doing things ourselves, and we're still happy."
Menomena did, however, reach a deal with local label Film Guerrero, owned by musician/artist John Askew, a longtime friend of the band, and somebody that had been in the Menomena camp since the early days.
"Film Guerrero is a record label on their own terms, but we looked at it more as an extension of what we?re doing, going through his distribution channels," Seim informs me. "We?re still paying for everything as best we can, doing our own duplication costs and our own press, and all that stuff. John was just a really nice guy. We?ve known him for awhile now. He was one of the first people we met when we started doing this band, and he sat in with us on some mixing sessions to help us out, even before we started thinking about working with anyone. He was just always there and it seemed really logical and the three of us could all agree that we have history with him. It got to the point where we thought we were kind of ready to put it into someone else?s hands, but not really. We?re all control freaks."
The deal worked out well for Menomena. They retained ownership of their masters and have 100% creative control, but were now afforded national - and international - distribution to help reach a wider audience, and an experienced indie label owner who could help guide the band in the direction they wanted to go.
The band also took the opportunity to fulfill their dream and see I Am The Fun Blame Monster released on vinyl. Hand screening the vinyl at home, and limiting it to five hundred, Seim hand makes vinyl orders as they come in, currently having produced 300 of the 500.
"It's fun," laughs Seim. "Well, actually, it's not fun at all to make, but it's great to look at when it's done".
The imaginative packaging, which was designed by Knopf, mirrors that of the flipbook, in terms of ingenuity. It includes a pullout monster (which hides the actual vinyl), and tricky packaging that is as fun to play with as it is to look at.
The band recently embarked on their first-ever U.S. tour, following landing the coveted booking agent, and a prominent one at that.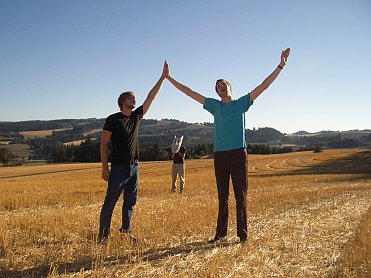 Picked up by mega-indie agency High Road Touring - home to Wilco, Big Star, Steve Earle, and many others - Menomena embarked on their first tour, one that experienced disastrous events, but didn't hamper the band's optimistic or excitement one bit.
On their way to their first gig, in San Francisco, home of their booking agent, the band's van broke down. A tire blow out hit the exhaust system, and a fire broke out only five inches from the gas tank. After driving on it for a hundred miles, the band was pulled over by police. Offering up their IDs, the cops told them to just get out of the car, that their car was on fire. After a fire truck came and shot water into their gas tank to extinguish the fire, the band finally made it to their gig, relieved to still be alive, and still very excited about the tour.
"We learned a lot from that tour," exclaims Seim. "Every time we got to the venues it was amazingly rewarding to feel that whether there were just a handful of people or hundreds of people, that they were there to see us. It's amazing to think that these people have heard of us in other cities besides Portland. It's still hard to believe, in a surreal sort of way. I never expected any of this."
Another obstacle, besides van troubles, presented itself to the band, which Seim is quick to own up to.
"The travel really got to us," he tells me. "I?ve never really left the Northwest for the last fifteen years, so there was these long stretches where we?d have to get used to driving and sleeping while we were driving. It got to be really expensive, but still the positives outweigh the negatives. So we?re excited to try it again."
Following the otherwise successful tour, which occurred in the fall, the band came home to work on an instrumental record they've been writing and recording for Time-based Arts Festival in Portland.
"Last September we collaborated with a local dance troupe called Monster Squad. Brent, Justin, and I each wrote an 18-minute piece that Menomena performed as a backdrop to the dancers over three consecutive days at the T:BA Festival. We're recording the entire 54 minute piece now and hope to release it by summertime."
Besides the project for T:BA, Menomena is currently looking forward to their upcoming spring U.S. tour and, after they get off the road from that tour, returning to the studio to work on Blame Monster's follow-up.
"Right now we have an upcoming tour and a SXSW performance to focus on," Seim informs me. "We're going out with a band called Pit er Pat. Our booking agent made the connection, and we like their music a lot. We've never toured with another band, so it should be interesting."
As for the next record, Seim tells me, they're using the lessons learned during the recording of Blame Monster, as well as their touring experience (what works well live and what doesn't) to help them make the best record they can once again.
"We all kind of know what works and what?s easiest to do. For the next album I?d like to learn from this and make a record that is easier to apply to the live show. Make it more stripped down or whatever. That?s one thing we learned from the past. Other than that, we?ve started to record again and its really cool to hear how the songs are sounding different because we?re so used to playing together now, the three of us."
Despite the sky being the limit for the band right now, with a booking agent, a supportive indie label that gives them complete creative control, and a cult fan base brewing across the U.S., the band is weighing out their options besides music. Seim tells me he is looking for a career outside of music as to not put all his eggs in one basket.
"It all comes down to transportation and money. And it sucks because you don?t want to place such a high priority on the money side of things because you want to be in it for the art," Seim says. "But when you have a wife and a house and you get off tour, all these things you have to prioritize, you are always constantly thinking ?when I get home are we going to be evicted because we screwed up our mortgage?? It?s kind of getting to that point where there is more pressure."
Something tells me Menomena works best under pressure, and their sophomore release should answer that call. Until that record is released, look forward to Menomena's instrumental record for T:BA in the summer and a tour as well.