INTERVIEW: Hidden Cameras
Canada's next big indie rock sensation
By: Alex Steininger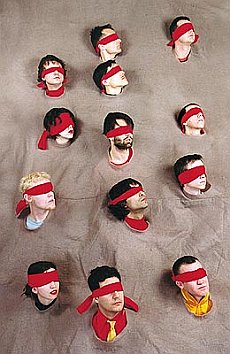 On Canada indie-rock outfit Hidden Cameras' sophomore record, Mississauga Goddam, the band revels in lush pop orchestration, creating beautifully rich, melodically powerful pop songs that still play well with loose-fitting indie-rock aesthetics.

"Choosing what instruments you want to go with and using them, that's how I like to experiment," says Hidden Cameras front man/songwriter Joel Gibb, discussing the band's experimentation on their sophomore record. "We put a lot of instruments on this record. With this record, it was a complete experiment in how much melodies and instruments we could put on it. It was a lot of fun."

A lot of instruments indeed.

Expanding on their debut, The Smell Of Our Own, Mississauga Goddam, named after their hometown, Mississauga, a suburb of Toronto, includes everything from lush strings to tambourines, giving the record layers upon layers of rich, warm instrumentation.

"I write the songs and know how I want them to sound, and create them well before we go into the studio. I think of every aspect from the length to what instruments I want to use," says Gibb of his songwriting practices. "I don't think of the songs as chords or detach myself from them as some songwriters might do. I conceptualize pretty much the whole song and know how I want it to be so we usually stay pretty close to that and it doesn't deviate that much."

As much attention and detail that is paid to the instrumentation and creating powerful melodies, Gibb puts equal amount of care into the lyrics.

"They're equally important to me, music and lyrics," he tells me. "A lot of times ideas spring through sound. There is a lot of interconnectedness between the two. Words are music to me. I write down sounds and music. And sometimes they're shit. But it helps me remember melodies."

But Gibb's lyrics have also lead to him being misunderstood by both journalists and music fans, something that doesn't bother Gibb, but something he always wants to set the record straight on.

"If you put something out in public, it becomes something else. It means something else to someone else," asserts Gibb. "My lyrics are misunderstood. Journalists hear a certain part and write it off. Some think it is just a gay shtick."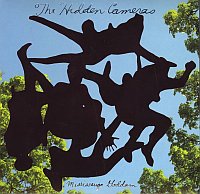 Gibb is referring to the homoerotic-ness of the album, something the press has been quick to latch onto. And, though Gibb is quick to point out there are homoerotic messages in the songs, that's not what it's about, that just happens to be a small part of some of the songs.
"It's part of the meaning, but it's not all the meaning," he tells me. "In the homoerotic imagery there is a lot more going on. Like with 'I Want Another Enema', it's not about gay sex, it's more about a political song how people perceive their bodies.
"And 'Golden Showers'. Oops, a Freudian slip. 'Golden Stream' (the first track off of their debut) is not about peeing on people. But people come up to me and assume that it is. I don't care. It's just funny to me, people's misconceptions of my songs."
More surprising than some of Gibb's lyrics, though, is how the Hidden Cameras came about. Gibb had never played in bands before. Hidden Cameras is his first band.
Gibb had been writing songs since high school, never telling anyone, and amassing a collection of songs. Once he started recording songs and playing them for select friends, one of them booked him at an art opening. It was that event that made Gibb get a group together to perform his songs live. And the band grew out of that performance.
"There was a lot of people who were in the audience at the art opening who are now in the band," laughs Gibb.
"I would give my recordings to people. And I would ask if they wanted to play these songs," Gibb elaborates on how he found musicians to play with him at the art opening. "After giving out my songs it was two years before we started the band."
Gibb, who is very hands, even beyond the songwriting, has directed two videos for the band, something he sees as an extension of his ideas for the songs when he writes them.
"Sometimes I think of film ideas when I write the songs," he says. "I don't have any film background, none at all. I took cinema classes in school, but that's it. I just think of an idea and do it. You don't have to be a filmmaker to make a film. I didn't go to school to be a musician."
When asked what his ultimate goal with Hidden Cameras is, Gibb is quick to tell me he just wants to rock.
"I feel there is a sense of exhaustion in that realm. What is rock 'n' roll about?" he asks me. "I like the old idea of rock 'n' roll being dangerous, something your parents don't want you to know about. I have that in the back of my mind. It makes me know I don't want to write about something derivative."
If sophistication is dangerous, Gibb has succeeded in putting danger back in rock 'n' roll, creating a rich, musical pleasing experience with the music and a biting, social commentary with his lyrics -- if the listener is willing to scratch the surface and pay attention to what he's singing about.