Perfect
Once, Twice, Three Times A Maybe (Ryko Disc)
By: Alex Steininger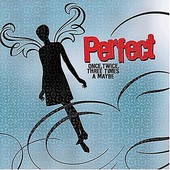 Originally entitled Seven Days A Week when it was recorded in 1997, Once, Twice, Three Times A Maybe is the long-delayed and highly bootlegged debut full-length from Perfect, re-mixed and re-mastered for its re-birth.

Perfect fell pray to label shifts and subsequently broke up when their label, Restless Records, was purchased by Regency Pictures, who wanted an outlet to put out their soundtracks and develop hip-hop acts.

When Ryko purchased Restless, they went through the vaults and decided they wanted to put out Seven Days A Week. With the band's approval, it was re-christened and here it stands, know known as Once, Twice, Three Times A Maybe.

Fronted by former Replacements and current Guns 'n' Roses bassist Tommy Stinson (who just recently released his debut solo record), Perfect's Once, Twice, Three Times A Maybe is the best post-Replacements record. Period.

Stinson is in fine form, beating out Bash 'n' Pop and the Perfect EP, When Squirrels Play Chicken, as well as his solo album, Village Gorilla Head.

Once, Twice, Three Times A Maybe is a solid, ten-track, thirty-three minute slab of post-punk energy, power-pop hooks, and unbeatable melodies.

As his solo album re-enforces, Stinson is more than able to fuse straight-ahead guitar rock with precious melodies, pulling hooks out of thin air and turning each of these ten tracks (and the eleven tracks on his solo record) into instantly memorable cuts.

And though his solo album showcases the rocker and the sensitive singer-songwriter sides of his musical ability, the reason Once, Twice, Three Times A Maybe stands out as the best post-Mats offering is quite simple. It's a pull-no-punches, cut-to-the-chase rock record that is loud, powerful, and laden with melody, going for the jugular from start to finish, and giving you thirty minutes of unrelenting power-pop-gone-post-punk.

Thank goodness this record has finally see the light of day. I've had it for years and years, a CD-R from a cassette, which I traded for over the Internet. However, now I can hear the record in all its glory. And, boy, is it glorious.

A must for fans of The Mats, Stinson, and anyone that likes strong, driven, and straight-ahead guitar rock. I'll give it an A.