The Martinis
Smitten (Distracted Records)
By: Alex Steininger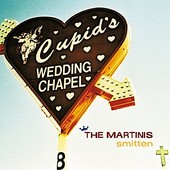 On Smitten, the debut from The Martinis, Joey Santiago's (of The Pixies) other band, Joey Santiago (guitar) and Linda Mallari (vocals) deliver a guitar-driven, power-pop record that has a lot in common with The Pixies, though is more straight ahead than quirky.

With the same post-punk blood pulsating through their songs, The Martinis and The Pixies, Santiago's love of playing guitar fast and hard, but with an equally appealing melodic sheen, is present, as all of the eleven songs here attest to.

With friends Josh Freese, Ben Mize, Paul Delisle, Mike Watanabe, and Dean Martin Hovey, The Martinis deliver a hook-laden, unforgettably poppy, rocking record here.

Whether it's the buzz of album opener, "Flyer", a fuzzy, guitar-driven mid 90s rocker. "New Scene", a bubbly, glowing pop song complete with harmonious backing vocals. Or, "Walls of Silence", a heavily distorted power-pop offering, The Martinis deliver guitar-rock the way it has always sounded the best: loud, energetic, and with so much pop sensibilities, you can't help but gush when you hear it.

Mallari's vocals give the sweet touch to Santiago's rocker heart, and together the duo, along with friends, knows how to make things both sugary and powerful. Smitten is an apt title for a pop/rock record that will leave you Smitten from the beginning of the album throughout the end.

I'll give it a B+.