Frausdots
Couture, Couture, Couture (Los Angeles)
By: Heinrich Odom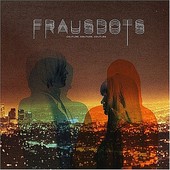 Frausdots' chilly piece of post punk revivalism, Couture, Couture, Couture, also brings machines to mind; but instead of a post-industrial factory, this record evokes the vision of a sleek, lovesick android drinking herself to death in a hypermodern Tokyo apartment. The core members of Frausdots are Brent Rademaker (formerly of Beachwood Sparks) and Michelle Loiselle. With their subdued singing, reverb-swathed guitars and icy keyboards, Frausdots carry on a long indie-rock tradition of bands placing an ironic distance between their music and the desire that is its engine. (It's fitting that the band hails from L.A., the capital of stylish artifice.)

"Everybody thinks that they're in love/ they're dead wrong," goes the chorus of the first song on the album, "Dead Wrong." The gap proposed here between what people think they are feeling and what they are actually feeling echoes the gap between a sentient android's sense of humanity and its mechanical nature. Later, in "Contact," Rademaker sings desperate phrases like "Contact, lost transmission, Frozen, echo drifts across the distant land," and "Memory, rusted memory/ always leaves me hanging on." A rat-a-tat drum pattern builds tension beneath the standard minor chords as the robotic front man realizes that desire itself, not just the objects of desire, is growing ever-distant.

Frausdots are similar to New York party-depressives Interpol, who play their own version of ennui-in-the-city post punk (though Interpol's songwriting, front man, and rhythm section are superior to those of Frausdots). But Interpol's sense of detachment is so great that their irony becomes a kind of joke, producing silly lyrics like "The subway is a porno" and "Yeah, she was my catatonic sex toy love joy di-i-ver."

Frausdots can't muster these kinds of non-sequiturs. Their music is pretty, but humorless- the lament of a sex toy who, like so many oversensitive young things, can't appreciate the absurdity of its predicament.