The Damnwells
Bastards of the Beat (Epic Records)
By: Alex Steininger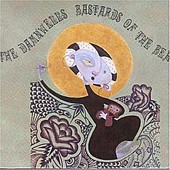 Formerly of In Music We Trust (yes, the magazine has a label, too). New York's finest, The Damnwells, deliver their major label debut, Bastards of the Beat, an album that, if you didn't pay attention to their debut EP, PMR + 1, proves that this quartet has the goods - the looks, the talent, and the songwriting ability - to be huge. It also showcases frontman Alex Dezen's ability to write memorable, hook-laden, genuine, deep songs in an easily digestible package. Yes, they are the rare breed: radio-ready and intellectual, too.

"What You Get", the second track on the album, and the number that really gets the album going, finds The Damnwells rocking out. They rip through a power-chord-spiked piece of real American rock, blending a pounding rhythm section with hearty guitar tones and blue collar, dirt-under-the-nail vocals that would make Bruce Springsteen proud.

"Newborn History" finds the quartet creating a subtler, but equally hooky number, one that finds the band rocking out a little, but subduing themselves for this emotional, relaxing song.

Not to be outdone, though, "I Will Keep the Bad Things from You" finds frontman Alex Dezen shining with just his acoustic guitar and his voice, sparse accompaniment filling out the song. Even with a rock band, Dezen's voice and lyrical painting causes your heart to beat faster and your ears to perk, as you feel as if the songwriter is right there, singing to you, the intimacy like no other.

Then, on the band's debut single, "Sleepsinging" (originally found on PMR), the band puts you in a daze. The guitars creating a fog, while the rhythm section caresses your body with a soothing, gentle beat, before hitting the chorus and rocking out, reeling you in like a drug, making you crave every note, every beat, every measure. Then they bring you out, back into the daze, before once again keeping the roller coaster adventurous.

But if it's straight-ahead rock you crave, "The Sound" emerges and blazes ahead with earnest, pure blood guitar-rock, as does "The Lost Complain", a beautiful pop-rock song that is as much rock 'n' roll as it is melodic, highly infectious pop with a sweeping chorus that will not be ignored (and will get stuck in your head for days).

However, the album's standout (among standouts, this is a tough call, mind you), "Electric Harmony", is the point where you stand up and scream, "This band must be heard!", it's radio-polished, yet sincere, anything-but-manufactured style both glorious and pure, ringing with hooks-a-plenty.

Here is a band that has toured with the likes of Old 97s and Cheap Trick, playing well to both these crowds. Though they often (mistakenly) get pegged as an alt. country or roots-rock band, The Damnwells are anything but, playing just as closely to the power-pop fanatics found at a Cheap Trick show - though not power-pop at all.

Rather, they're as real of a rock band as you're likely to come across in this day and age. No gimmicks, no forced image, just real songs, real guys, and a real love for music, and for that, Bastards of the Beat is a breakthrough album that will not only become one of your favorite albums, but make The Damnwells one of your favorite bands. I'll give it an A+.