Broken Spindles
Fulfilled/Complete (Saddle Creek)
By: Alex Steininger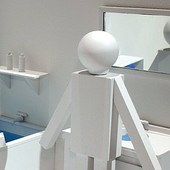 A side-project for Joel Petersen (from The Faint), Broken Spindles' latest, Fulfilled/Complete, is a beautiful, oft-experimental collection of indie-rock, post-hardcore, and ethereal sounds, all free flowing together to create a rich, atmospheric sound that will be well-embraced by indie kids.

With a lot of piano and incorporating strings, as well as vocals, Broken Spindles one moment creates an ethereal vibe for you to play in your background and mellow out to ("Induction"), while later spooking you with a jarring post-hardcore ("Italian Wardrobe").

Hitting you with everything in between those, too, Broken Spindles create a record that winds and curves, spins and sways, but always sounds like the Broken Spindles. From the experimental to the straight forward (which is rare), here is a record that does a lot while only saying a little. I'll give it a B-.