Ben Folds
Invisible Circles (Epic/Sony Records)
By: Brad Halverson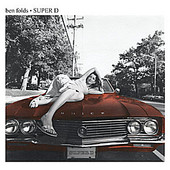 I'd be naïve to expect Ben Folds to change his style dramatically at this point, even if his underappreciated 1998 solo album Fear of Pop indicated that he was more than capable of broadening his horizons. But really, that's not such a bad thing when The Usual is consistently enjoyable, and that's something Fold's work has always had going for it. The problem with sticking with The Usual is that when the quality dips a little it seems like more of a dramatic drop off than it might actually be, and that's the general feeling I get from Fold's new EP Super D.

The third in his line of album-stalling EPs (apparently, Folds doesn't like the promotional brouhaha surrounding the making of an album and prefers to put out low pressure EPs instead) Super D feels more like the product of an artist claiming that there was going to be three of something but ran out of inspiration/energy/interest after two. Of course, the obligation was there to put something together and this is it, and while it certaintly isn't bad, it gives off a sense of not really needing to exist.

The previous two EPs, Speed Graphic and Sunny 16 seemed to paint optimistic pictures of where Folds was going as a songwriter with songs that indicated that he was getting better at his chosen style without really changing anything about it. Here we see him stuck firmly in the past with songs that never stray from his sensitive wiseass persona. That persona is what made songs like "Army" so great, because the two sides of Ben existed simultaneously, but here the songs are either funny or sensitive. While Folds has plenty of great, purely funny songs in his catalogue, this is the side that falls flat on Super D. First you have a cover of The Darkness' "Get Your Hands Off My Woman" which Ben just doesn't have the pipes (or the guitars) to tackle effectively. Besides, who thought covering The Darkness was a good idea? I mean, sure I like em lots too, but doing an ironic cover of an ironic band playing an ironic song is just too much for my taste. Some credit must be given though in the respect that I'm reasonably sure that this song, performed by this artist, couldn't sound any better than it does right here. Turning a guitar heavy track into a song driven mostly by piano and bass is no small feat afterall.

Then there's "Rent a Cop" which is one of Fold's many humorous character songs. Unfortunately, this one is pretty forgettable. The joke of the song is two dimensional and while there are a couple funny observations, it feels more like an unfinished idea than anything. It doesn't help that the song is a couple minutes too long and is only modestly catchy by Fold's standards.

On the plus side, the two serious songs, "Kalamazoo" and "Adelaide" are teriffic. The fact that "Kalamazoo" is a long overdue remake of a demo recorded back in the early days of Ben Folds Five adds to the feeling of this collection being thrown together, but if you never heard the original, that doesn't matter. "Adelaide" is easily the highlight here though. Lines like "got to make it to the finish line/ get the record done on time" are particularly appropriate given that Fold's last proper album came out on in 2001 and the follow up has been continually delayed in favor of these EPs and a collaboration with William Shatner (which as it turns out is actually really good).

Plus there's the tacked on cover of "them that got" by Ray Charles which is nice and all but--well you know. It's there more in the sense of a tribute than anything, and since it's a live version from two years ago, and not even the complete song, it comes off as a particularly poignant piece of filler. If Ben had gone into the studio and recorded a finished version of the song it might be a different story since his take on the song has lot's of potential. And while it's certaintly not my place to play favorites in regards to dead musician tributes, I might mention that I've heard Folds play a cover of Elliott Smith's "Say Yes" that really is something else. Look for it on a boot if you're interested.

So there you go. One ill-advised but surprisingly un-sucky cover song, two awesome originals, a merely alright Funny Ben Folds Character Study? and a nice little tribute to a musician that probably insprired Mr. Folds a great deal. If you're already a Ben Folds fan there's no reason you should drag your feet on getting this, even if it isn't nearly as satisfying as the other two EPs in the series. Even if you're unfamiliar with this guy though, get on iTunes and give "Adelaide" a download. A lesser man might hasten to refer to it as lovely, but I'm secure enough in my masculinity to say just that. It's fuckin' lovely.