Social Distortion
Sex, Love, and Rock 'n' Roll (Time Bomb Recordings)
By: Alex Steininger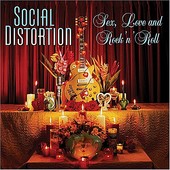 On their first studio record in eight years, and first record without founding member Dennis Danell, Orange County's defining punk rock act Social Distortion are back - and in fine form.

With newcomers Jonny "2 Bags" Wickersham on lead guitar and Charlie Quintana on drums, Ness and (now departed from the band) longtime bassist John Maurer have created a record that, though may not be their best (it's hard to beat a classic such as Mommy's Little Monster, or their triumphant last record, White Light, White Heat, White Trash), comes damn close.

Sex, Love, and Rock 'n' Roll is that record. One thing that nobody can dispute is that it sounds like Social Distortion, through and through. Their formula works and Sex, Love, and Rock 'n' Roll is proof that Ness and Social Distortion have not lost steam and only gained momentum over the years.

Fast, loud, and energetic, it's punk rock through and through, as lyrically biting as ever, as musically fierce, and as bullshit-free and pull-no-punches as Ness has ever been.

There are two things that ensure this is the new millennium Social Distortion, however, and prove the band is older, wiser, and smarter - and getting better with age.

These two things are the addition of an organ player, who adds a new dimension to the band, highlighting certain aspects of Ness' train of thought, and giving the songs an even more harmonious, melodic touch. And Ness' lyrics themselves.

Whereas the themes and tales of hard luck, losers, and the broken dreams that permeate their lives have made Ness a voice of every generation that embraces him. This time around Ness takes a more positive, more proactive rather than reactive approach to his words, writing inspirational, hopeful, and inspiring lyrics about overcoming adversity, living each day to its fullest, and giving it your all.

Ness is a husband. A father. And a voice for many. Instead of dwelling on the pass, he's embracing the future here, giving his fans, as well as himself, a pep talk, making sure they grab life and live it, instead of wasting away to nothing.

Filled with hooks, but still bursting at the seems with punk attitude, Ness defies odds and creates a rock record that is as spirited as any of his other records, but much more optimistic and inspiring than anything he's done. And for that he deserves kudos. Maybe this is the band's best record to date? I'll give it an A-.