Drag Strip Riot
Drag Strip Riot (Go-Kustom Rekords)
By: Brian Budack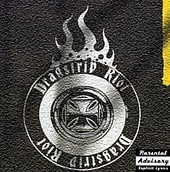 Drag Strip Riot wants to take you on a hotrod ride to the gates of hell and back. The four greasiest men to pick up instruments in the Seattle area deliver a scorching, self-titled debut that is sure to send fire up your spine, ensuring it shoots out your mouth.

They have a sound that walks that fine line between traditional rockabilly into the depths of murderbilly. Instead of exploring monsters and evil as do other bands of the psychobilly genre, they choose to go into the twisted depths and delusions of the average everyday man.

"American Sick-O" and "36 Inch Wheels of Death" are some of the better tracks on the album that showcase their tightrope-walking, genre-defying sensibilities.

In regards to their rockabilly leanings, their title track "Drag Strip Riot (Let's Go Fight)" and "Fast Cars and Faster Women" deliver the pure blood rockabilly fans will go crazy for. It's a good record overall, with a lot of energy, but they could always give more. Couldn't we all? I'll give it a B.