W.A.S.P.
The Neon God Part II: The Demise (Sanctuary Records)
By: Vinnie Apicella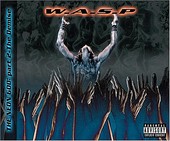 Let's thank our (neon?) god there's a part II to this; after the lengthy build up surrounding the first part of Blackie's second foray into the rock opera concept, one thing was clear - the man's musically exhausted.

Never at a loss for words however, the storyline he created is about as out there as one might expect, reading like a cross between a "Jonathan" off the edge and the theme of "Unholy Terror" and the character actors involved in its lyricism. But that's been Blackie's forte too often today; there's plenty to say, but the vehicle used to carry the message is running on fumes.

Expectedly, The Neon God records are a musical continuation of where Crimson left off - same set up, presentation, chord progressions, drum rolls, Daltrey & Townsend-isms. People berated W.A.S.P. for their high tech industrial designs on "K.F.D." a while back. I beg to differ; in spite of its formulaic modernity, loops, samples and the like, it was a refreshing record from a band with a point to prove; the music and the message scared you shitless then tore your balls off. The Neon God II is refreshingly heavier and more inspired in relation to the mundane and punchless first part (we'll give 'em Asylum #9) a record that failed musically on all fronts, particularly where songs like "Wishing Well" and "Running Man" are concerned - same songs, different titles, heard 'em before, downshift.

The focus and musicianship are more convincing here. There's less 90 second folktale filler and more substance from its first moments - "Never Say Die," "Resurrector," and "Tear Down The Walls" are presented with a vindictiveness that almost suggests they (Blackie) knew part I was weak so let's bomb the shit out of them right from the opening riff!

"Come Back To Black" is an anthemic clutch for the throat where the poor sod is beckoned to return to the dark side and a life of doom; "Destinies To Come" is a fast-paced guitar-first foray into the ranks of traditional metal - welcome back Blackie, what took you so long - that's been found too often wandering about somewhere between '84 and '92.

There are only nine tracks here, a couple ballads and "Clockwork Mary," which is a rehash of "I Can't" off of inarguably the worst W.A.S.P. album, Still Not Black Enough."The Last Redemption" is the 13 minute grand finale which ties everything together - story, music, closure, and taking a step beyond Crimson by somehow compiling every musical element in the mix, even incorporating an orchestral movement midway through. One of the definite high points of the entire set.

The material of The Neon God II is hands-down stronger than part I, but still mind boggling is Blackie's continual mix down of the guitars in favor of too much bass beating and keyboards - it's the Ken Hensley curse apparently! It has gotten better as Darrell Roberts, another strength in an otherwise insecure lineup of players, can clearly run some riffs yet still it's as if he's partially pinned to the wall at times by repetitive chord progressions that all park themselves on the low 'E' and disallow any sense of rhythmic dynamism.

Numerically, I'd rank this record about a 6 or 7 because they take some risks and loosen the reigns a bit, but mainly because the lead-in to it was so uninspired and wasteful and not worth the wait.