Tygers Of Pan Tang
First Kill (Metal Nation Records)
By: "Vinnie Apicella"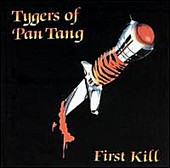 Little could they have known at the time these demos were originally recorded, back in '79, they would be released in full album form not once, but twice! Tygers', short lived though they were, and their prime in particular, were at their best in their original and crude form, featuring Cox, Dick, Laws, and Weir, which saw them release the classic "Wildcat" album from 1980.

Commemorating the 25th anniversary of their debut 7" single, "Don't Touch Me There,"First Kill is again made available 18 years after its inception, this time with four bonus cuts -- "Burning Up," "Don't Touch Me There," "Money," "Wild Catz" -- from the original MCA demo sessions, previously unreleased, and superbly reproduced. In fact 25 year old demo tunes probably never sounded this fresh! Featuring fourteen tracks overall, First Kill is primeval NWOBHM in all its faded glory, fashioning the sights and sounds of early Nugent, Leppard, Riot, and TSOL with tough guy anthems like "Slave To Freedom," "Don't Take Nothing" "Alright On The Night," along with the more suave and sophisticated anthems like "Angel," and "Small Town Flirt," done for the '86 original.

The Tygers' were as amped and energetic as any band going in their day. With the right blend of musicianship, attitude, name and style, they arrived at the right time when the likes of Maiden, Def Leppard, Saxon, and others were all getting their feet wet; unfortunately, unlike the aforementioned, but like so many others of the time, they couldn't outlast persistent personnel shifts and inclimate industry standards that by the mid-'80s, the Tygers were already a long done has-been.

But big-selling standouts notwithstanding, they were few and far between, for those that could admit to having a prime, for even one album (though we'll acknowledge the one-two punch of the John Sykes-led "Spellbound" and "Crazy Nights" in the year that followed as worthy follow ups to the "Wild Cat" debut) the Tygers' left behind a pretty grand legacy in spite of nearly threatening their beloved and oft-referred cult status with last gasp pop gimmicks that had little to do with the original set up in the first place. Back to where it all began, First Kill offers fans a fresh cut of endearingly dated, throttle-squeezing heavy rock that's tightly wound, slightly worn, properly impoverished in both production and package, with a few pages of prime era eye candy thrown in.