INTERVIEW: Mike Watt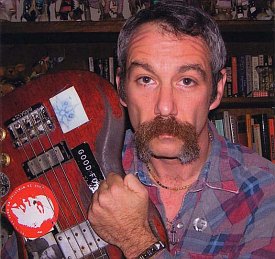 Punk rock legend discusses living, new record, touring, life (Watt from San Pedro)
By: Alex Steininger



As a founding member of seminal punk outfit the Minutemen and of fIREHOSE, Mike Watt's contributions to not only punk, but also music in general, are undeniable. He is a freethinking, do-it-yourself mastermind, one who wasn't afraid to incorporate jazz, funk, or folk into an otherwise 'rock' song. He's known for pushing the boundaries, testing the limits, re-examining, and re-defining what it means to 'rock'.

Now forty-eight years old (as of December 20, 2005), Watt spent the last year of his life writing and recording his third solo record, the Secondman's Middle Stand (Red Ink/Sony). A nine-track album that recalls a near death experience Watt had when he was in his early 20s.

When a massive abscess in his perineum burst, Watt was hospitalized. Overcoming the odds and making it through, Watt lived, and the experience gave him a new outlook on life. But, he never planned to write a song about it. He didn't want to write a song about it.

Flash forward over twenty years later, and Watt has written not only a song, but a rock opera, the Secondman's Middle Stand about the experience.

"When you're young you think about getting old, but you never think about the middle. It's a trippy thing," Watt tells me, discussing the themes and ideas behind the Secondman's Middle Stand, and what the songs, beyond his near-death experience, mean to him.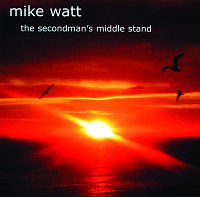 "It was a hell ride, the sickness. I almost died when I was 22 and then got better. And I didn't want to write a song about it then, but ended up writing a whole rock opera about it," he laughs. "I still have a lot to do! I have all these plans and then you think about death and how you may not finish it. I think of D. Boon [singer/guitarist for the Minutemen] whenever I start to doubt, and that man played every gig like it was his last. And how do you know when your last gig is? This is what I do. I threw caution to the wind and went for it. If I'm going to go down I'm going to go down doing it. I can't stop playing. I can't. I'm riding the bike, drinking less alcohol, working on being healthy. But I can't stop playing."
the Secondman's Middle Stand has been Watt's cleansing. It got the experience out of his system and into the light. And despite repeated suggestions from doctors that touring as relentlessly as he does could be hazardous to his health, Watt continues on, making music and playing live, living every day as if it could be the last, because he knows the value of life. He's almost lost it and doesn't want to waste one minute of it.
Once Secondman's Middle Stand was completed, Watt began to doubt himself.
"In a trippy way, I wonder if people can relate to the record as it does for me. I wonder if sometimes people don't know it's about sickness and they think it's about a middle-aged punk rocker? If they think that, can they find value in it?" he asks himself, before telling me a story about previous self-doubt and how D. Boon would always help him through that.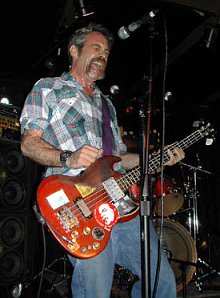 "I used to worry a lot what people think, but then I'd play stuff for D. Boon and if he liked it, I didn't care what others thought, because it was good enough for D. Boon".
With D. Boon no longer around to reassure Watt, the Secondman's Middle Stand 's themes of life, death, and living life to the fullest did the job.
"Someone once told me that nostalgia is the biggest liar," recalls Watt. "Even though I'm from the older days, I don't want to rest on my laurels. I'm not a beginner, but hopefully I'm not at the end, either."
Once the album was done, Watt prepared his band for some relentless touring to support the release.
"Some of it makes me cry, because I have to re-live the shit," Watt says when asked how it feels to play the songs off of the Secondman's Middle Stand each night. Song titles include "Puked to High Heaven", "Tied a Reed 'Round My Waist", "The Angels Gate", and "Pluckin', Pedalin', and Paddlin'".
"Sometimes when I'm listening to the record, it comes alive for me," he continues. "It's very heavy for me to listen to. And it makes me cry when I listen to the end and I'm able to ride my bike and play my bass. I'm glad I made it to that, but listening to it, I have to relive it."
Telling me he's not "really a musician" and that he got into music to "hang out with friends and to be with D. Boon". Watt informs me that the tears he tastes playing these songs and reliving the memories are quickly erased by his nervousness and the ensuing momentum he gets hitting the stage, playing live for people.
Watt also tells me that he's always surprised, and quite happy, at the generations of people showing up at his gigs.
"I'm seeing people not so much my age. Younger people are showing up. It's great!"
Besides the release of Secondman's, Watt was quite excited to play bass for the reformed Stooges last spring and summer.
"I was always a big fan," he tells me, "but never thought in a million years I'd be playing with them. I can remember listening to them as a kid".
Watt and I end the interview discussing his radio show, the Watt from San Pedro Show. On it he plays an eclectic mix of music, from jazz to punk, and everything in between. The show is available at www.twfps.com.
"I always start the show with a John Coltrane song, but after John Coltrane, it's all free form. I play a lot of kids' music who give me their CD at shows because that's real," he informs me.
Watt and his band offer one of the most riveting live shows of any band, old or new, and are not-to-be-missed. On tour constantly, check them out when they come to your town.