Whatever is Whatever
The Modest Debut of The Kinison and LaSalle Records (LaSalle Records)
By: Matt Vogt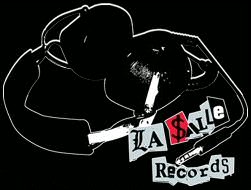 With the force of a tornado--err, rather with the force of a brisk wind, LaSalle Records...the new label founded by blink-182 drummer Travis Barker...has floated into the music scene like a piece of pollen in the wind. . The label's debut came with the release of The Kinison's What Are You Listening To? A 12 track set with high energy, ear piercing vocals, great bass licks by Mike Villavincencio and a tone that inspires one to remember the early days of The Sex Pistols or The Ramones when bands simply tried to play as fast and loud as possible.

Barker claims to have started LaSalle to give aspiring artists more creative freedom when constructing an album. He signed the relatively unknown Kinison in the hopes that the group could somehow transfer the energy, and appeal of their live shows to a more condensed album format. Says Barker, "I saw The Kinison in a club in Riverside, California three years ago, and it's the best live band I've seen in five years."

Chris Klein...the lead singer and frontman of The Kinision...tells the story with a little bit more detail. "[Barker] was friends with our road manager. Somebody paid me thirty bucks to hold a camera and we ran into Travis. We got to talking about music and he brought up our band and was like, 'You're in the Kinison? You're band rules!' I just brushed it off, but he seemed really into it and told me he went to ten of our shows in a row, and then he promised to sign us to his new label. I honestly thought he was joking at the time you know? You never think you're going to catch a break, and we didn't care. We're just a bunch of drunks, I just like to party. But hey, a year and a half later we have an album out."

Unlike many individuals in the music industry Barker remained true to his word by first signing the underground Kinison, and then allowing them to record a debut album at their own pace with complete creative control. LaSalle did not once attempt to change the sound of the band in order to make them into a more marketable group that could find a niche in the radio-friendly mainstream, much to the Kinison's delight. Says a seemingly jaded Klein, "[Barker] seemed like he didn't really care; I mean I'm sure he did but he never bothered us with anything. He just let us do our thing.

We had producers, but they weren't suits. No suits man, no suits! Shit if we had suits in there we honestly would have told them to fuck off and eat shit if they told us to add a fucking chorus or some bullshit bridge. They don't know shit, they'll try to market a hook, and that's bullshit, and "let's put a cool cover on [the album]". You don't love music, it's not your life. I honestly could work some 9-5 bullshit job, and I'd still love and make music."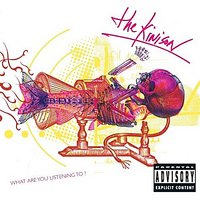 Since the release of What Are You Listening to? The Kinison have remained fairly grounded due to moderate sales and mixed reviews. Instead of screaming fans, mansions, bottles of champagne and oodles of cash the band has settled on finding happiness in the little things. Klein for example has upgraded his status from homeless drunk to drunken renter by finding an apartment in Riverside, California. Meanwhile the group as a whole has graduated from small club shows to somewhat larger club shows and national tours. "It's a little depressing to play at holes in the walls with an audience of like three people," said a suddenly less excited Klein. "But we still play a good fucking show no matter who's there or who isn't. I mean now we're finally headlining shows, so I guess it's gotten a little bit better; and we're on Warped Tour this summer. 102 degree shows, woo-hoo! It's gonna be awesome! That's my official comment on Warped Tour."
When talking to Klein I was repeatedly surprised by his lax tone, and inability to show concern over the commercial future of The Kinison.. Most bands signed to a large label are usually under immense pressure to sell records at a fast pace and a thick volume, especially when that label is in its early stages. The Kinison, however, don't seem to be worried. In fact, they aren't worried about it at all and they don't have to be. LaSalle, and Barker, want the band to grow at its own pace; their weaknesses are recognized by both the label and the band itself. Says Klein, "I think we suck--if I was 16 I might like us, but I know we're not that good. I think we're honestly a mediocre band, but we got some breaks, and that's it man. I won't give us any credit, because we get hyped because of our association."
Overall, Klein is a little too hard on himself. The band is talented, and their impressive debut album shows the makings of what Klein would probably call "a great sort-of-punk-band." LaSalle seems to be genuine in wanting to take unpolished underground rock acts with cult followings and give them a home where the only goal is to make the best music possible. With the release of What Are You Listening To? The Kinison, at the moment, have achieved that goal and will now test their bizarre, yet melodic, mix of garage and hardcore punk on critical Warped Tour crowds throughout the country.
Whether or not the Kinison will go on to make a truly memorable album is questionable, but LaSalle has given this group of unknowns a rare opportunity to be great, a chance that typically eludes underground acts with only a handful of fans and even less hope of making it big. Up to this point LaSalle has been genuine in its efforts to provide pop-music's castaways with a foster home of sorts where musical quality takes precedence over an eye catching album cover or unforgettable hook that bounces through your brain like a scratched CD. The label has the potential to inspire a return to an era where bands created music to fulfill a passion instead of a vacant spot on TRL's top 10. Currently the Kinison are improbable leaders in the underground revolution if they continue to progress as expected.
When asked to predict where his band would be 10 years from now a somewhat agitated and always drunk Klein replied, "We don't have ads or billboards, or any of that shit yet--but I would be ok with being in a band that good. You gotta work up to that. I can honestly pull an answer out of my ass right now. Is that what you want? Here's a good line that you should end the article with: whatever is whatever man."
Okay.