David Cross
It's Not Funny (Sub Pop Records)
By: Alex Steininger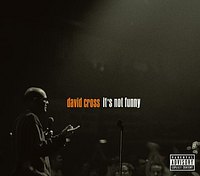 Oh, David, I am so sorry! I called your last album, Shut Up You Fucking Baby!, "inconsistent" and ended up giving it a bad review because, well, at the time, I didn't think it was funny. It was 2-discs, and too much for my mind to wrap around at the time. However, with one listen to It's Not Funny, I realized I was wrong! You are fucking brilliant, my man, and having gone back and listened to Shut Up You Fucking Baby!, I must say it is a classic comedy album.

But, you've gone and out done yourself. You've released a record in It's Not Funny that is both funny and dead-on. Your commentary and insight into the government, George W. Bush, and the United States in general is priceless, if not also food for thought. You tackle hard subjects like abortion, racism, and poverty in such a light that you can't help but laugh and cry over how right you are, and how unfunny it all is.

The saying is true, though, it's funny because it's true, and so you're right, It's Not Funny, but in discussing the should-be humorless aspects of life, you've turned it into brilliance.

Thank you!

I'll give this an A+.