Books on Tape
The Business End (Greyday Productions)
By: Alex Steininger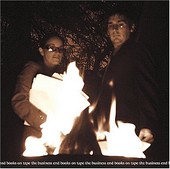 Todd Drootin, the mastermind behind L.A.-based Books on Tape, has released his latest concoction, The Business End. It is an electronic record made from hand crafted beats, made through a set of samplers, synths, guitar pedals, and various electronic gadgets, creating a technology-based sound, but forging the latest in technology.

Thus, his creations have a pure, organic feel, something that is rare, if impossible in the electronic genre, but something Books on Tape manages to carry out throughout The Business End, a nine-track, thirty nine minute collection of highly danceable, energetic, intriguing beats and melodies. I'll give it a B.