Hayley Hutchinson
Independently Blue (R N R Music)
By: Alex Steininger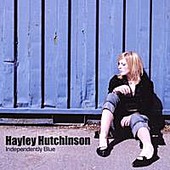 Hailing from the UK, Hayley Hutchinson displays a knack for roots-laden, comforting pop songs on Independently Blue. A collection of twelve songs that range from the bouncy, blues-tingled folk-rock of "Deadman", to the adult contemporary pop of "Minor Key", complete with an organ that helps give the song depth, as well as a dobro, giving it a country flavor. All through the relaxed, laid back folk-pop of "Fall Down", a song that showcases Hutchinson's true vocal ability and tenderness.

Independently Blue is polished and well-produced, helping to push the sometimes generic and cliche folk-rock/folk-pop vibe up a notch and saving the album from the mundane. With a strong voice and more-than-able musicians backing her, Hutchinson offers here a warm, soothing record of promise, never really rising to the occasion with an undeniable hook, but offering up plenty to help you forgive her for that. I'll give it a B-.