VARIOUS ARTISTS: Eccentric Soul (The Capsoul Label)
Antena: Camino Del Soul (Numero Group)
By: Cam Lindsay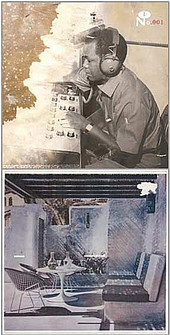 Recently launched by the odd couple of Jen Shipley and Tom Lunt, Numero Group is a company that runs purely on its website. That's right, there is no distro or retail outlets, everything happens through Numero Group. With this interesting concept intact, the pair has also selected two primo records to celebrate their first releases.

Numero 001 is Eccentric Soul, a compilation spanning the five years of Capsoul, a record label out of Columbus, Ohio that began and ended in the 1970s. Releasing a dozen 45s and one full-length, there wasn't a whole lot to compile, making this collection a rather comprehensive one. Of course, every artist featured is a relative unknown, but the sound of Columbus was one so strong that this could easily be lost treasures from Motown. The disappointing thing about this album is how the potential of so many artists was just wasted because the exposure wasn't there. Every song, from Ronnie Taylor's "Without Love" and Bill Moss' "Sock It To 'Em Soul Brother" to "Hot Grits!!!" by Elijah & The Ebonites and "Go On Fool" by Marion Black, is vintage dynamite just there to discover. And that's what makes this so exciting, here are 19 songs there for the taking, waiting to be discovered the way they should have been 30 years ago.

Numero 002 is another record that was criminally overlooked and forgotten. Originally released back in 1980 on Factory Benelux, a sister label to Manchester's legendary Factory Records, Camino Del Soul was a five-song 12" that was later expanded along with extra singles. This version contains another single ("Seaside Weekend") and some unreleased tracks ("Frantz" and "Ingenuous") as well as new artwork to cap off the complete redux. Based out of France, Antena was Isabelle Powaga, Pascale Moiroud and Sylvain Fasy, three amateur musicians that used their innovative minds to create a music that was equal parts indie, electro, pop and samba with a twist of sweetness. Extremely minimal and exotic, Antena should have found a place with contemporaries like A Certain Ratio, The Slits and ESG, however, instead, they were left damned for obscurity. Let's hope they get their just desserts.