Gary Numan
Live In London (Eagle Records)
By: Vinnie Apicella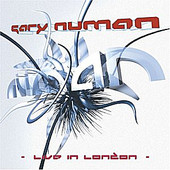 The latest live installment for one of the forefathers of the electro-pop revolution finds Mr. Numan featured on a live two-CD set crammed full of early age classics and modern models, however, excluding the many a nameless, generally faceless releases during the so-called down time for the man who felt on the outside looking in at two notches beyond cracking the top 40 at one point.

Live In London is an excellent, nearly like being there, live record, not only for the fact that it features Numan's expected golden era digging deep into his late '70s origins, first with Tubeway Army, before embarking on such "Numan's Own" titles as "Replicas" which featured the oft-revisited classic "Down In The Park," and the massively popular "The Pleasure Principle," which reached chart-topping accolades led by the ageless, "Cars" hit. But perhaps owing to the fact that his label just threw out another live record last year which was more of a "complete" collection, fans will find many an unusual or unexpected opus unearthed for the occasion, such as B-sider's like "We Are So Fragile" or "Noise Noise," both of which, were met with an equally unlikely fan enthusiasm in spite of their obscure origins.

Live In London took place on the final date of Numan's "Exile" tour of the UK in 1997, concluding at Shepards Bush Empire, and highlighting a return to his darker side with soul stirring songs infused with edgier guitar parts and industrial-dynamism, from what was considered a strong comeback for the performer that time basically forgot from '85-'95, in a period when it was neither cool nor desirable to be either punk, glam, goth, or forward thinking. Led here by tracks like the surging "Dominion Day," the disturbing image developed by "Dark," and techno-rich nuances of the funky "An Alien Cure."

Numan was and has been all of these things. One need look no further than to many of yesterday and today's mega-selling supergroups for proof. He broke at a time well before MTV ever plastered a pop princess on the viewing screen, creating captivating sounds that were both chilling and cinematic, and eventually, far beyond listener comprehension. Years later, they would catch up. However, bands like early '80s new & dark wave pioneers like Depeche Mode, OMD, and later techno-Industrial kings Nine Inch Nails, by way of cover or collaboration, have sung the praises of the man, effectually raising his stature far above any one or ten critics and slumping sales figures could force down.

Live In London was hailed by Numan himself as a "religious experience" and "awe-inspiring" and seven years after it happened, and in spite of inexplicably following up on 2003's Live at Brixton Academy record, finds Numan at his elemental and exploratory best, revitalized and recaptured, and importantly, re-examining and rewriting his reborn future.