Lamont
Thunder Boogie (Traktor 7 Records)
By: Vinnie Apicella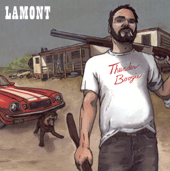 Few bands come across on record like they're storming straight through your living room with an in yer face sound that's like six speakers pinned side to side on either side of your head, amps cranked beyond limits while the band trudges with muddy boots and buckshot. It's a Beantown boogie of brain battering proportions as Boston's threesome bore of Thunder Boogie and trailer trash tenacity push the brashness well past the boundaries of fan friendly commercial Rock and star polish.

Envision bands like AC/DC and Motorhead in their infancies -- unimaginable, I know -- but that starve for the stage attitude and grind 'em down intensity signaled the start of something wonderfully reckless and raunchy in a rock n' roll game gone bubblegum. With an already impressive following riding on their collective power cord, Lamont's six year journey's seen them hit the trails with fellow Bostonians, Scissorfight, The Cutthroats9, and the incomparable kings of beer, bud, and bad, Gangreen, while currently warming up for U.K. denim and doom legends, Orange Goblin, and doin' some underground style sound tracking for extreme sports and video.

Tunes like the fast-paced and menacing, "Hotwire," "Vegas," "Hell's Got Me Runnin'," raw and reminiscent of "Let Their Be Rock," and the anthemic Punk surge of "Psychopath," reveal a DIY ethic with a go for broke delivery, and coarse Rollins-like vox that together recall early pioneers like Motorhead and AC/DC, instilled yet with a Southern-fried sarcasm and Stooge-infused virus that's destined to affect millions with ill manners, nerve damage, and self-inflicted aural wounds.

Three guys, three chords, feedback, distortion, and barroom backing chorus, Thunder Boogie is like thunder and lightning surging through your veins and out your eye sockets, lighting your mind and renewing faith that rock n' roll was always meant to be loud, obnoxious, dirty and devil sent.