Impulse Manslaughter
Live at WFMU (Beer City Records)
By: Jeb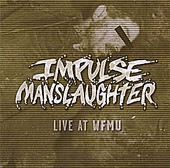 This CD is the latest in the ongoing re-release series by Beer City Records. A series that is dedicated to re-releasing some of the most blistering hardcore from the last twenty years for a whole new generation to warp their minds to. The CD starts out with 17 tracks recorded live on WFMU, New Jersey in February of 1993.

The unadulterated ferociousness of the band easily overcomes the slightly primitive production of the recordings (realize, of course, that back in the day ALL hardcore bands had primitive production...). It is amazing to me how many times these "live in the studio" radio gigs bring out the best in a band.

IMPULSE MANSLAUGHTER is hitting on all cylinders during this set and the result is a recording as solid as (or better than) many of their original vinyl releases. Speaking of which, this CD also has 21 tracks selected from multiple LP, EP and comp releases. If you are unfamiliar with I.M., here is a perfect chance to rectify that egregious oversight. Any fan of extreme music, be it hardcore, thrash, power violence or grind, should own at least one I.M release. I say that in all seriousness.