Hearse
Armaggedon Mon Amour (Candlelight Records)
By: Vinnie Apicella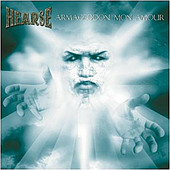 Following up on last year's universally acclaimed, if domestically deficient, Dominion Reptilian release, Sweden's Hearse delivers another eleven tracks of Armageddon-sized torment for tortured souls. Armageddon Mon Amour is mix of pain and pessimism lyricized from the half-empty glass of life, delivered with a wry smile, deadened with a mallet of dark metal, then thrown in cold storage to be later usurped as a combination of Celtic Frost's Morbid Tales, Entombed's Uprising, and The Haunted.

Led by the leads of Johan Liiva, former throat scratcher for the renowned Arch Enemy, his raspy roar comes through the listening zone like a razor run against chafing skin. Ably aided by a mere two members who together, sound bigger and bloodier than one might perceive, the trio creates an exciting style of modern death aggression with blindsiding structural breaks of mood and melody, and old world tradition full with power groove and arena-sized soloing. Seriousness and sarcasm follow the theme of tracks like "Mountain of the Solar Eclipse," "Turncoat," and "Crops of Waste," with the "theme" developing through a lyrical high-rise of hope for humanity that's soon tugged and thrown to the ground amidst a cynical smile accentuated by down turned brows and gut-crunching choruses defined by "ultimate failures," "falls from grace," and "the beginning of the end."

To discount a degree of devil's music and mournful tones would do a disservice to the band, founded upon the principles of an evil in the extreme; thus a song like "Play Without Rules," overall amongst the most aggressive and adventuresome, crosses swords with ol' school Slayer and Napalm, "Amorphis-sizes" for some thirty seconds at the three minute mark, before smashing through the final sixty seconds in the fit of rage it began with. "Determination" follows with a melodiously catchy basic beat that sees Liiva go goth while the song unfolds to reveal a deeper sound.

Concluding with the stirring title track, "Armageddon, Mon Amour," Hearse reveals its ethereal charms, revealing yet another side to a band bore of many elements of the Metal extreme, efficiently executed, deadly precise, stress-free and sensitized without the endless slew of Shakespearean features to slow progress. Overall, Hearse's second offering picks up and delivers for anyone and everyone who's ever been driven by the devil's horns, or just wears 'em for the holidays!