INTERVIEW: Otis Taylor
Future blues legend and current indie cult blues artist discusses new record (Otis Taylor)
By: Alex Steininger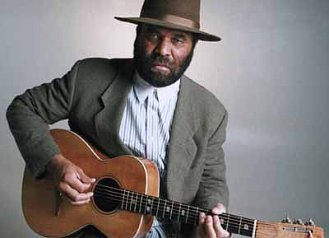 "Double V," says Otis Taylor, a blues singer-songwriter known for his songs about racial injustice, murder, and the tragedies of history, "it is a reference to victory, a victory for racism and fascism. Black soldiers in World War II would use the term."

So he decided to call his sixth album Double V, which is a quite fitting follow-up to 2001's White African, his most personal and direct album, which deals with the lynching of his great-grandfather and the murder of his uncle.

But for Taylor, Double V is more than just a victory for racism and fascism. It is about working with his daughter (who appears on the cover of the album, unlike any other Otis Taylor album), and chartering his own voyage, especially following the departure of friend and longtime producer Kenny Passarelli.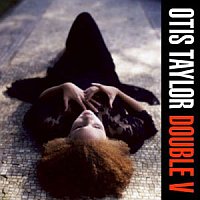 "When Kenny quit the band," Taylor tells me, "it forced my hand. It was extra pressure because I produced the record myself. It was hard, because you can't tell yourself you don't want to do something. You gotta figure out if it's you being lazy - the artist in me hates second takes. But the producer in me, I gotta figure it out. Kenny liked to overproduce everything. So you'll notice on this record, it's a lot looser, lot more raw and organic.
"Kenny would want organ and everything to fill out the songs; I liked to keep them simple and plain."
Wearing several hats this time around, Taylor thought it was time to call in his daughter, Cassie, to sing on the record, giving her a chance to showcase her voice on tape, as she had done in several live gigs since the release of White African.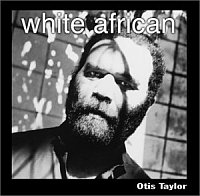 "When my daughters were young they would come to gigs and back me up. Cassie, one of my daughters, is shy, but she loved it. The little one didn't love it and doesn't want to do it," he tells me of his daughters' interest in the music business. "Also, Cassie is also a great bass player, and since Kenny was no longer in the band, I needed a bass player..."
Not only did Cassie sing lead on "Buy Myself Some Freedom", but she performed bass throughout the album, leading Taylor to proclaim, "Double V is about two people. It's a father-daughter project."
With a music career under his belt prior to walking away from the business in the late 70s, to go run a success antique store, Taylor knows the music business inside and out. Following a "one-off" performance in 1995 with Passarelli that brought him back into the business, and lead to the recording and subsequent release of Blue Eyed Monster in 1997, Taylor has approached things differently than he did in his youth.
"Touring is tricky," he tells me. "There is no need to pound the pavement and play to markets that don't care. I do about 80-100 gigs a year. But, sometimes it's not when you played, sometimes it's where you played."
We both pause for a moment, before I ask him where his best markets are. Without hesitation he tells me, "I sell twice as many records in Europe, so that is where I need to go."
Following the release of Double V Taylor toured the states strategically before heading over to Europe. All the while, writing and recording songs for his next album. No matter how new or crisp the songs, Taylor says he's always working on new material.
"What if I write my best songs next week?" he asks me, answering the question as to why he doesn't take a breather from songwriting. "I'm prolific enough where I don't have to worry about material for an album. I just keep writing and writing until I feel I have an album's worth of material".
Which instantly sparks the question, "How do you know when you have an album?"
"I just use the songs I want to record the most or the newest material I have around," he laughs.
Double V is his shortest record to date, something Taylor is very aware of, but feels was necessary to make the album stand out the way it did.
"My records are a journey," he explains to me. "I can't add another song [to an album] because someone thinks it's too short. Maybe it doesn't need it! That's my opinion."
Clocking in at just over 40 minutes, Double V is Taylor's strongest record to date. Though it might not be lyrically his best record, or musically the best record, either, Double V as a complete package is a true victory.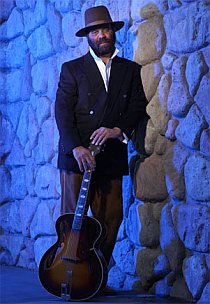 Comparing Double V to his previous efforts, Taylor quickly asserts, "Not every song I write can be a masterpiece." This quickly gets us talking about a good Otis Taylor song versus a bad one, to which Taylor tells me, " I consider myself successful if I write two songs on an album someone likes, because a lot of people buy albums for one song. I'm more concerned about making great albums than great songs."
And it is that attitude, his attention to the complete package, and not just the parts of the album that will deliver instant gratification, that make him, and his music, so genuine.
"Sometimes the music," he pauses, "Sometimes the hook is the song. Sometimes the lyrics are weak, but the music is trippy and weird and makes the song even deeper and it sets up the album. However, you need some bad moments to make the great moments stand out".
That is his core philosophy to lyrics, too, surrounding great lines with less stellar ones, to grab the listener's attention.
"You need some mediocre lines to set up the great lines. You can't do great line after great line or its all a wash. Some people try to come at you time in and time out with great lines, but then you don't notice anything over anything else. You gotta have that one line that stands out. A great line is one you can set up in your head."
With one listen to Double V it is easy to tell why Taylor is known as one of the best independent blues musicians today. He consistently delivers a complete album, where each song works in tandem with the next, rather than contently delivering a few gems to his fans and filling out an album with filler.