INTERVIEW: 50 Foot Wave
Former Throwing Muses Front Woman Discusses New Band (Throwing Music)
By: Alex Steininger


"A lot of people at the shows don't know who I am," says Kristin Hersh, founder of the seminal rock band Throwing Muses, discussing her new band, 50 Foot Wave. "It's interesting, because that was one of my goals. I didn't think my name would necessarily work in our favor. I didn't want us to have a history, because 50 Foot Wave has no history."

The band, 50 Foot Wave may have no history, but front woman Kristin Hersh sure does. The front woman for the early 80s post-punk outfit Throwing Muses, and a successful solo artist as well, Hersh has been releasing critically acclaimed records on both major and indie labels alike since 1983.

Finally hanging up Throwing Muses in 1996, after the release of Limbo (Rykodisc) - though they would do a reunion record, Throwing Muses (their second self-titled record) in 2003 - Hersh kept busy with her solo career (and still does).

However, she was missing the loud, aggressive guitars and rock that had propelled her to cult status. Penning songs that didn't quite fit the Throwing Muses, and with the fact still remaining that The Muses weren't able to function as a profitable band (touring heavily, recording and releasing new records frequently), husband/manager Billy O'Connell and Hersh decided to start a new band, going into it with a very detailed marketing plan.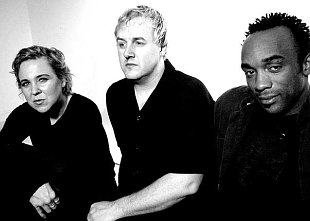 "When I had those songs, I could have asked the Muses into a studio for a polar switch, but at the same time I missed being in a working band with songs that I thought were beautiful, and not Muses or solo songs," she tells me of her decision to start 50 Foot Wave. "And so band members wouldn't starve we came up with the business plan."
"The Muses," she continues, "couldn't really work. We'd play when we could and those dates were few and far between. I had some faster, louder, harder... ultra Muses, if you will, songs so Bernard George and I went out and found a drummer who plays as if he's pushing a drum kit down the stairs."
Thus 50 Foot Wave was born.
Part of the band's marketing plan is to release a new EP every nine months, and to never do a full-length.
"To be a working entity we have to tour, and we can't keep playing the same songs each time," says a business-minded Hersh. "And I think it's easier to pick up an EP that is cheaper, and I don't want people to sit through filler."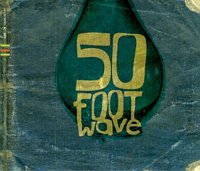 "Also," continues Hersh, "Nine months is the quickest we can turn around a record without hurting the previous one."
Another part of their business plan was to determine if they wanted to do everything themselves, on the Throwing Music label, or if they wanted to field offers from labels. After thinking about it for some time, the band decided they wanted to do it themselves. At least for now.
"Right now we've been pretty clear in the press we only want to do it ourselves, at least until the next record," Hersh informs me. "In the future, if we can get a great offer and they promote the record as well as we can, I am not anti-industry."
Hersh and I start discussing the confusion many have about the band. That they are anti-industry and that is why they want to do their records themselves. She is quick to dispel this myth, however, telling me they are not anti-success or industry at all, it is just the confusion they cause.
"It's been so many years of the public being ear fucked, so there is this huge, untapped market that ignores the mainstream. And we want to try and tap that market, which has caused a lot of the confusion," Hersh tells me.
Going in to 50 Foot Wave, Hersh and George decided that they wouldn't count on Throwing Muses fans to embrace the new band, and accepted the fact that they would have to find a new audience, because Hersh's solo fans probably wouldn't embrace the band, either.
Subsequent touring and fans reactions, however, have proved them wrong.
"I didn't count on Muses fans liking the new stuff, but Muses fans aren't married to one sound," Hersh states proudly. "I've had people who really dig the solo stuff and never heard of The Muses really enjoy 50 Foot Wave, and I've had Throwing Muses fans come up and tell me how much they love 50 Foot Wave."
Another fear she had, prior to the fans' reaction to the EP, was that people would consider it too math-rock and not enough noise. But, those fears quickly were erased after the record was done.
"This is the first record I am completely happy with," she says with a smile. "When the energy and enthusiasm is there, you can't really fuck it up."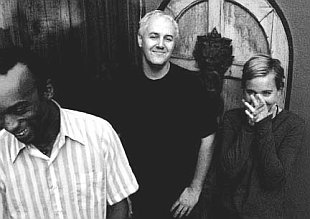 The band is currently gearing up for another U.S. tour and another trek through Europe, and then hopes to finish the next EP, for release in the new year, which will be followed promptly by more extensive touring.
"The new stuff has been part of our set for awhile now so, yeah, we know exactly what songs will be on the EP," she says, discussing the band's sophomore EP.
"The next EP will be harder and darker," she informs me. "I don't want this to sound rude, but it's not so Foo Fighters. It's not so happy and melodic. We did that on the first one, which was good for it. But now I think we can get a bit darker."
Look for them in your area this fall.