Weezer
[Blue Album / Deluxe Edition] (Universal Chronicles)
By: Alex Steininger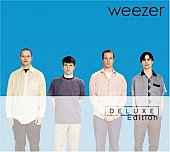 I was never much of a Weezer fan when the Blue Album first hit in 1994. Sure, I thought the singles, such as "Buddy Holly", "Undone - The Sweater Song", and "Say It Ain't So" were undeniably infectious. But, I was too "punk rock", or so I thought I was, to listen to a pop band, let alone a pop band dominating the radio!

Eventually, though, I came around. It was 1996, Pinkerton, the band's sophomore album, was released to critical praise and commercial failure. I heard the record and, partially (I'll admit it), because it wasn't garnering tons of airplay and rabid support from mall rats, I gave the band a chance. And I'm glad I did.

I went back and bought the Blue Album and finally got it.

Here we are, ten years later, and Geffen has re-released Weezer's multi-platinum breakthrough, the album that made it cool to be a nerd. With extensive liner notes, new photos, and a bonus disc that includes fourteen tracks of demos, outtakes, and alternative versions of songs that appear on the Blue Album, Geffen has done Weezer right by helping to give the Blue Album new legs.

However, the real treat here (since I'm assuming a lot of the hardcore Weezer fan, of course, own the Blue Album) is the bonus disc.

Live versions of "My Name Is Jonas" and "Surf Wax America" are good. But, it is the Kitchen Tape Demos (the demo that got them signed) version of "Undone - The Sweater Song", as well as cuts like "Paperface", "Only In Dreams", "Lullaby For Wayne", and "I Swear It's True" that really make you salivate. And, b-sides such as "Mykel And Carli" (a personal favorite of mine), "Susanne", and "Jamie", all make this disc a home run and must have for fans.

With a song-by-song description in the liner notes and plenty of other juicy background, the liner notes are a value here, too.

The Blue Album is a sparkling demonstration of pop smarts, geek sheik, and good times, all rolled into one, proof that a rock band can be infectious and sugary as all get out, and still, well, rock.

Even if you own the Blue Album, here is a keeper. Dust off the Blue Album, remind yourself of how great this is, and then get the deluxe edition to really revel in its glory. I'll give it an A-.