The Vapids
Teenage Head (self-released)
By: Gary "Pig" Gold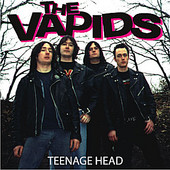 For a near half century already, the sacrosanct steeltown known as Hamilton, Ontario, Canada has been home to some of the greatest musical trailblazers known to man, as our very own Bruce "e-Mole" Mowat would be the first to tell us.

Needless to say one of the most legendary of these combos was, and sometimes still continues to be, the rock 'n' roll Popeye cartoon known as Teenage Head. Forever hard at play forging the tongue-in-Levis sensibilities of the Dolls and Stooges to the duck-assed riffs of Eddie Cochran, the Head could be equaled only by those Ramones during that musical upheaval known as 1976, and likewise their influence and inspiration continues to breed shock and awe to this day. Case in point: Four denizens of the Hamilton suburb of Burlington called The Vapids, who have upped the ante (not to mention the tempos) considerably in recreating ten of the Head's classic numbers on this utterly terrific li'l disc, produced by none other than veteran T. Head Gord "Lazy Knobs" Lewis himself.

So should any of you not yet be on a first name basis with "Lucy Potato," nor own a slew of original Teenage longplayers yourselves, then here is an ideal chance to acquaint yourself with one of the best catalogs by one of the best bands from one of the greatest cities on Earth. And while you're at it, tell 'em Pontiac Lou sentcha!