Sunset Valley
Goldbank 78 Stack (self-released)
By: Alex Steininger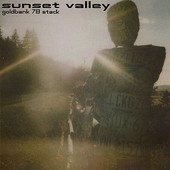 Portland, Oregon's Sunset Valley follow up 2001's Barsuk release, Ice Pond, with a record that recalls their 1998 debut, The New Speed (Sugar Free Records). Whereas Ice Pond explored the band's psychedelic indie-pop side, The New Speed cruised along with quirky, fast-paced power-pop that was as energetic as it was sugary.

With Goldbank 78 Stack the band rediscovers the sound that made them such a buzz-heavy act in the industry (eventually leading to a major label deal, before the label imploded due to bad management, among other things).

Ever present are front man Herman Jolly's Pixies-esque lyrics, hard to decipher, but enjoyable nonetheless. However, without great music to back the words up, even the most poetic, off-the-wall lyrics would fall flat. Jolly, along with core bandmates Jonathan Drews and Eric Furlong, answer the call, helping to ensure Goldbank 78 Stack is a pulsating, zany, and fun-filled record of substance and style.

The opening title track starts out slow, reeling you in before crashing down on you with thunderous rhythms and screaming guitars, the melody pushing the song along, while the rock makes your heart beat faster. Coming together like a whirlwind, Jolly and crew follow the chorus with some more simmering, slower beats before once again crashing down on you, using this dynamic to prepare you for the rest of the pumping melodies and head-on power-pop rock that is sure to fly your way.

"Candy Stairs" finds the band delivering a great rock song without the need for speed, keeping it equally loud and hook-filled, however, leaving enough room for you to dance or rest. But, the buzz-saw rock of "Blow Up" quickly succeeds the song, and the band once again revs it up for a fast-paced, bouncy number that will find you running around like a chicken with its head cut off, enjoying the frantic number with a big smile on your face.

Things get extra crazy on "Mr. Extreme Jeans", with Sunset Valley defining just exactly what quirky is in this boppy, good-time pop song.

Playing with a slight-garage flavor, "I'm A Bull" shows a grittier, dirtier side to the band, though don't think for a minute it soars the band's appetite for crisp, refreshing pop, because nothing could hold Jolly and company back from creating a sweet pop song.

"Deadhorse Waterloo" is the band's idea of taking a breather, delivering a lighter, less aggressive pop song that seems to want to dance and shake more than it wants to make you sweat. On that note, the band goes out on the softer side with "Gaze My Shoes", a fluffy, lightweight pop song that glows with a bright, sunny gloss.

For those that thought Sunset Valley was done for after not hearing from them for three years after Ice Pond, you will be refreshed to hear the band is in fine form, doing what they do best - fun, loveable pop songs with enormous energy. And, if you've never heard of them, but love beautifully crafted, accelerated power-pop that can't stand still, blended with a giant helping of indie-rock, than you'll take great joy in discovering this band. I'll give it an A.