Reubens Accomplice
The Bull, The Balloon and The Family (Western Tread)
By: Alex Steininger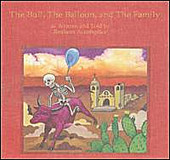 On their sophomore release, The Bull, The Balloon and The Family, Phoenix-based outfit Reubens Accomplice create a record reminiscent of their environment. Lined with images of strip malls, cinder block suburb dwellings, depressing Dairy Queens, metal heads, and tweaker-trailer culture, it is easy to see how the dark lyricism would paint this record as a downer. But, the outcome is something quite contrary.

The songs are sunny, bright, and uplifting, brought to life by the band's smart pop sensibilities. Some may consider the band, at times, emo, with emotive vocals protruding through the soaring hooks. However, in the same way that Jimmy Eat World is and isn't emo, Reubens Accomplice is the same way. Emo kids will love them, but they're too smart, too melodic, and too focused to be lumped into the run-of-the-mill emo tag.

Produced by Jimmy Eat World's Jim Adkins (who also co-owns Western Tread, the label Reubens Accomplice calls home). And featuring guests including Howe Gelb (Giant Sand), David Bazan (Pedro the Lion), and Jon Rauhouse (Neko Case, Old 97s), The Bull, the Balloon and The Family finds Reubens Accomplice effortlessly weaving between acoustic-based sentimentality and full-on juicy pop blasts. It's a record that may find some reservations at first, but like the glowing nuggets found within, will warm up to you and turn you into a fan. I'll give it a B+.