The Kids of Widney High
Act Your Age (Moon Man Records)
By: Alex Steininger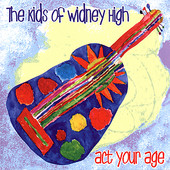 Formed in 1988 by Michael Monagan, a teacher at the Los Angeles-based special education school Widney High, Monagan first assembled the class to teach students how to write and perform original songs. Consisting of musicians Vince Licassi (guitar), Judy Rudin (harmonica), Tony Bollas (drums), Spero Anthony (bass), and Monagan himself (guitar), The Kids of Widney High have been an ever-changing group of students, which accounts for their sporadic and infrequent live performances. However, Monagan and his students have kept the class alive, and the latest incarnation of The Kids of Widney High offer up Act Your Age, the school's third release.

Fans of outsider music will revel in the music's beauty, however fans that don't get the joy in acts such as The Shaggs, Wesley Willis, or Daniel Johnston (the three biggest outside music acts), may still find joy in The Kids of Widney High.

Act Your Age is a smart, fun, joyous pop offering, from flimsy, happy-go-lucky pop to near power-pop intoxication, with elements of surf, rock 'n' roll, and blues sprinkled in. With lyrics about cows, making your teacher mad, Fidel Castro, and Elvis Presley, the record is about as true blue a rock 'n' roll record as you're likely to hear, done for the love of music, in the spirit of fun, with no commercial ambitions. Just a record that was made because it needed to be made (a lot more than can be said about most albums), so voices could be heard. And heard they are -- loud and clear. Act Your Age will have you acting a lot less your age, as you remember the fun of being a kid, let your hair down, and throw caution to the wind. If only for thirty-five minutes and ten tracks; I'll give it a B.