VARIOUS ARTISTS: A Tribute To Guns 'N Roses
Bring You To Your Knees (Law of Inertia)
By: Vinnie Apicella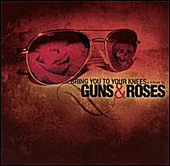 Considering the level of output from the real G 'n R in recent years -- and "real" is certainly up for debate, with the band touting only an Axl as their lone rep -- and the continuous hurry up and wait routine for nearly a decade's worth of nothingness, why not keep the flame burning by way of the latest upsurge in underground talents?

"Bring You To Your Knees" features fourteen contributors bore of a fledgling underground indie extreme scene that've achieved a fair measure of success in their own right. Group's like Century Media's Haste, or the acclaimed Dillinger Escape Plan, Epitaph's Death By Stereo, and Trustkill's Eighteen Visions have set new standards among the many in the realm of crude Rock anthems set to modern aggression today's dissident youth can all look up and lose their hearing to. Make no mistake, not one of these bands sounds remotely close to G n' R -- then again, amazingly, who really has since the day they swept themselves under their own rug of recklessness -- but amidst it all a solid mix of faithful renditions and new shreds are enough to dull the senses without misinterpreting the group's own identity yet still keep fleeting hopes alive that the original(s) might still have their say.

Zombie Apocalypse gets the opening nod doing G n' R's first major hit, "Welcome To The Jungle." Featuring members of Shai Hulud, ZA effectively tears apart the original blueprint and leaves a nearly indecipherable mess of fast-paced noise-core after the familiar intro. In fact three of the first four tracks, "Jungle," Haste's version of "You're Crazy," and Unearth's "It's So Easy" are far flung stretches of brutality, bordering on Hard Core and Doom. Bands like Vaux and Break The Silence temper things, however, with milder, truer to life versions of tunes like "14 Years" and "Night Train," with the thumb raised slightly higher in favor of the former's smokin' version of what for most is probably a forgotten moment from the "Illusion" set that had too many songs to begin with. But them guys in Break The Silence sure can sing.

"Sweet Child O' Mine" is a tough one. It was an age old classic even at the time it came out, and save for Sheryl Crow's touching blend a few years back, it makes sense in the hands of the right players-- Here, Most Precious Blood gives it a shot and mixes well the percussion with fresh guitar lines, but the snarling, sneering vox do little but irritate throughout its five minute life. Better, Time In Malta's version of "November Rain," the mega-seller from the "Use Your Illusion I." Why? Because there's more to it; more melody, arrangements, and instrumental breaks that play to the strengths of this New York-based up and comer from the Equal Vision label, that inserts dissonant guitar riffs, minor keyed melody lines where percussion once lied, instrumental breaks, and somehow still sound true to the original with their own original sound before two minutes worth of epic fade away. Then there's "My Michelle" by Dillinger Escape Plan where all bets are off. They sound like Dillinger Escape Plan doing "My Michelle," but catch on to that chunky guitar sound!

The fourteen tracks covered here are dominated, not surprisingly by Guns' historic "Appetite" release that debuted back in '87 which still lives on among the greatest in history. Also worthy of mention are Eighteen Visions and Every Time I Die, of all people, doing considerate versions of "Paradise City," and the only claimant from G n' R's "Lies" acoustic follow up, "I Used To Love Her." Overall, "Bring You To Your Knees" will do that and blacken a few eyes in the process-- and likely bring a few tears to 'em as well while ya recover from the volatile intensity of this underground upsurge and trip down a memory lane laced with its fair share of bruises, bumps, and rule breaking bravado.