Various Artists: Still Standing
A North American Ska Uprising (Jump Up! Records)
By: Alex Steininger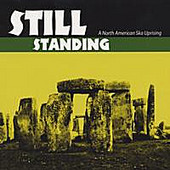 A ska compilation like none other, the 4-disc set Still Standing, a project headed by Jump! Up Records founder Chuck Wren and Toasters (and former Moon Ska) front man Bucket, Still Standing features 88 bands, ranging from traditional Jamaican ska to third-wave hybrids such as ska-pop, ska-punk, ska-hardcore, and everything in between.

Featuring notables such as The Toasters, Let's Go Bowling, MU330, The Chinkees, Bim Skala Bim, King Django's Roots & Culture Band, Victor Rice, Buck-O-Nine, Forces of Evil (which features Aaron Barrett of Reel Big Fish), The Slackers, Mustard Plug, Voodoo Glow Skulls, and Mighty Mighty Bosstones. The album has no shortage of name ska artists. Which helps introduce new talents such as Stalking Roxy, Superspecs, General Rudie, The Afterbeat, Conscious Youth, Addicts, 12 Cents for Marvin, and many more.

Wren and Bucket have done a great job reviving ska, which was left for dead after major labels came in, farmed it, miracle grew it to the mass media, than moved on to rap-metal - to make matters even worse.

Wren says in the liner notes it was his goal to bring back to life the underground community that was built up before major labels and the trend broke it down and abandoned it. And with these four discs, his goal is accomplished. Now, as for his other goal, record stores adding back and/or expanding their ska sections, we'll see about that.

Ska fans will rejoice and find at several things, at the least, that they enjoy on here. I'll give this a collection of ska music a B.