The Obsessed
Incarnate (Southern Lord Records)
By: Jeb Branin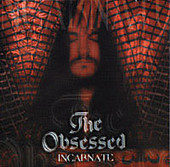 Don't turn your back when listening to this CD or it just might sneak up behind you and crack your skull open.

Incarnate is a collection of rare and unreleased tracks from the dynasty of doom known as THE OBSESSED. If you have not heard THE OBSESSED but have wondered what it was about them that secured their legacy as legends, then you need only to listen to this CD once through. Your jaw will hit the floor at the steamroller of sound contained herein. This has it all, from live tracks to demo tracks to covers like LYNYRD SKYNYRD and GRAND FUNK RAILROAD. You haven't lived until you've heard Wino and company take SKYNYRD's On the Hunt and make it their own. If you are an OBSESSED fan then obviously this CD became essential to your collection from the moment if was first conceived.