Knight Area
The Sun Also Rises (The Laser's Edge)
By: Vinnie Apicella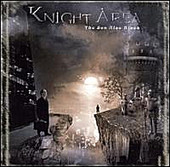 The groundwork for "The Sun Also Rises" was laid two decades ago by the Klazinga Brothers, a Dutch duo with their designs for taking flight. Featuring nearly ten additional players, "The Sun Also Rises" is a massive musical presentation that's reminiscent to the progressive rock masters of the past where dexterity combined with depth to embed some truly dramatic moments that had to be heard several times to fully appreciate.

From the earthy opening moments of "The Gate Of Eternity," a seven minute epic, it's evident this is a very elemental undertaking built upon dreamy symphonic sequences and folksy harmonies. Conversely, "Conspiracy" features a brasher introduction of edgy guitar chords and keyboard interplay that brings to mind the keyboard-laden radio rock of Journey before embarking on a still water sequence at mid-point that reveals the subtler side of the equation, as before, before yielding again to the decidedly louder guitar/key compliment before fade out. "Conviction," three songs later, could be the long lost heretical brother of the former, again brandishing a heavier guitar part, attacked and assisted by the keys, for one of the catchier if darker, more turbulent tracks. "Mortal Brow" tears one right from the Marillion song book with its varying speeds, moods and musical tones.

Thematically, medieval combines with modernity as primary lyricist Joop Klazinga views the world from a vantage point of past and present, exploring the external through internal analysis, and the quest for inner peace. Brother Gerben, principal song writer and percussionist, incorporates a symphonic feel to the songs, all of which involve many instrumental parts amidst their usual five to six minute length, only without too many undetermined reaches. In that regard and in the powerful yet polished production, "The Sun Also Rises" packs a more immediate impact than might a previous King Crimson or early Genesis record, though the comparisons are otherwise well-founded.

Featuring a wealth of veteran musicians encompassing four guitar players, two bassists, percussion and woodwind, there's at once an ambient, new age character that's well blended with traditionally organic elements that feature lead guitar and keyboard harmonies and complimentary soloism while the rest of the rhythm section sets the seasonal backdrop that's usually Spring-like, uplifting and effectual.

While any number of groups could make for competent comparisons, from Saga to Genesis to King Crimson or even Kansas in the early going, particularly in the vocals where here, lead singer Mark Smit, with his soulful croon similar to Steve Walsh on the band's gentler moments; and then there's the classic tones of Pink Floyd never more so evident than on the inspired epic "Moods Inspiring Clouds." Overall, there's not much wasted energy on this record. Knight Area's "The Sun Also Rises" is an exercise in precision, bridled power, and careful planning that yields an impressive end result.