Insomnium
In The Halls Of Awaiting (Candlelight Records)
By: Vinnie Apicella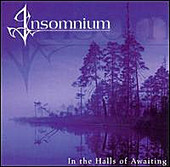 In 2002 Insomnium entered the picture. Their "In The Halls Of Awaiting" release was an acclaimed work of true technical skill that pierced like the Viking blade into the heart of stagnation. They furthered the possibility that heavy music could still live a full and vibrant life even with one foot in the grave without succumbing to the brutal torture of 60 minute sameness. Today, the band strikes again with their second work of sheer brilliance in "Since The Day It All Came Down," showcasing another eleven tracks that combine blazing riffs with mesmerizing melody lines, and imaginative progression by way of light-bathed interludes bore of Finnish folktales, minor keying and shifty breaks.

Comparatively speaking, In Flames' later work, minus the "technical" elements and clean vox, earlier Sentenced and Dark Tranquility, along with the latest "Ashes To Embers" Eyes Of Fire style melancholic Gothu-drama in spots, not stretches, come to mind. Insomnium, drawn from the Latin meaning of "nightmare" and "insomnia," quite naturally, maintains its strength on both ends, with sizzling fretwork and sudden time changes bursting from mysterious presentations of dread and contemplation. From the ferocity of the title track to the slowly paced and anthemic "Daughter Of The Moon," the double-bass pummel and catchiness of "Bereavement," or all out aggression of "Death Walked The Earth," it's altogether dream-like and nightmarish in a chilling yet clever 50+ minutes that provokes the listening senses and sets the bar a notch higher for others to reach.