Fleshcrawl
Made Of Flesh (Metal Blade Records)
By: Vinnie Apicella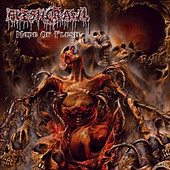 The opening track, "Beneath A Dying Sun," begins with "Watching the end of the world--" and it only gets worse from there! A cold, clammy but catchy track, it's not long before we're led down the same dark descent that left off "Soulskinner" three years before when Germany's Fleshcrawl, continually developing and entangling themselves with the many big name Nordic warriors and domestic Death dealers, rose above also-ran with their impressive Metal Blade breakthrough.

"Made Of Flesh" is another work in menacing intensity driven by doomsday lyricism, dexterous playing and a smattering of dark thoughts, delivered graveside for the wicked listener's last bout with material world madness before bowing out six feet below. The title track and "Scourge Of The Bleeding Haunted" are back to back examples of extreme aggression done at mind numbing speeds equally weighted by skill and sloppiness, with the latter song, shorted of being a complete masterwork if only for the weak verse that's akin to one Tom G. trying to do anything remotely close to human comprehension post-"Emperor."

Although there's no such thing as "easy" within the realms of Death Metal and Doom, if not quite isolated in the pace of the playing, such despair runs through each of the ten tracks, word for word, every note uttered, death is not simply the end, but the welcome friend come to save us from wretchedness of life. Underlying there appears a theme of one who, even in death, cannot attain sought-after peace and thus, Hell let loose the likes of "Flesh Bloody Flesh" and "Damned In Fire," two more recklessly paced anthems for the restless corpse.

Fleshcrawl's style, a combination of bitterness and neck breaking on one end, textural and melodious on another, has little trouble switching scenes as the need arises, creative and deadly, making the most of a routine four minute surge with enough instrumentalism and amplitude that one forgets the album's overall efficiency in length, due mainly to a get in and out quickly scheme.

Typical of the European extremists, the musicianship on "Made Of Flesh" is high caliber, devastating with their influence lying in the darkness of the present, presented in a gratuitously grotesque way where "Carnal Devourment," amongst their most intense work, can be none other than what it states; one need only insert appropriate enemy stand-in. Seven albums in, moving steady if at a slow "crawl," the band's picked up speed in recent years having crossed the boundary into the sacred Euro-Metal tradition with their 2002 appearance at Germany's acclaimed Wacken Festival among a ton of other extreme pairings along the way. "Made Of Flesh," deadly and dynamic, and nearly three years in the making, will leave another lasting scar on the rotting carcass of an ever thriving Death scene that simply won't die.