Astral Doors
Of The Son And The Father (Locomotive Music)
By: Vinnie Apicella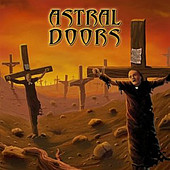 It would appear as though the man on the silver mountain's returned with revenge on his mind. One listen to "Of The Son And The Father" evokes instantaneous memories of classic Dio-era Rainbow, Deep Purple and late '70s Sabbath selections. Comprised of six Swedes with designs to streak a little color on an often mundane Rock backdrop, they've composed eleven solid tracks of arena-sized sing-alongs led by commanding vocal work from Patrik Johansson and tight rhythm section powered by dense riffs and pounding organ. Johansson's voice is a strong presence similar to early Coverdale and Hughes, Dio in his prime and at the extreme, as well as any number of fill in the blank performers conjured by Mr. Malmsteen as the need often arises -- most notable Goran Edman, Doogie White.

The ripping lead track, "Cloudbreaker," sounds like it was broken right off "Mob Rules" and Rainbow's "Starstruck," while "Hungry People" is propelled by turbulent drum work and hearty cry for the children chorus; "The Trojan Horse" is among the shadier of Deep Purple style tracks, very "Child In Time"-like at the onset before bleeding into a melodious Hammond-smashing rhythm that's again strengthened by Johansson's impassioned vocs that turn at the verse. In spite of their name, don't expect "Astral" as associative to any outerworldly Hawkwind type moments sprung from flighty arrangements and progressive breaks; though that's not to discount there existing a mildly ambient texture but overall there's more churn and burn. Might and majesty are also well placed adjectives to describe this first offering from the recently formed Swedish sextet that's not shy about wearing their influence on their sleeve and later sharing the wealth quite capably with the rest of the star gazing Pepsi generation.