Amen
Death Before Musick (eatUR Music)
By: Vinnie Apicella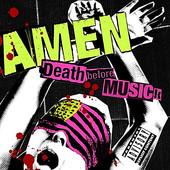 All they want is a little liberation for God's sake! And so blares the 90 second opening to Amen's latest release, "Death Before Musick," an appropriately titled work of great depth and thought provocation, not to mention life imitating art-- or vice versa as the case may be. Regardless, Amen's third release is a monstrous undertaking of up from the gutter Punk fury built to last for generations of discontented followers with a dollar and a dream-- and quite literally, Amen's frontman Casey Chaos, living the dream if it kills him, maxed out his own plastic and close friends' patience in pooling together the band's latest effort -- not to mention the actual band itself. "DBM," which chronicles this period of unrest for the band, is very much a rebirth for Chaos and Amen and sounds every bit like one all throughout.

"Death Before Musick" is an amalgam of underground styled-music that marries the ol' school design of the Pistols' piss boiled ranting with the madness of Marilyn Manson's nu-school styled aggression with a production output that probably deserves to be nowhere near as crisp as it comes out considering the internal instability and excessive recording delays. The outcome features plenty of angst and all out war against all set to groove-inspired shout-alongs to pinch a nerve or pull a muscle to. "California's Bleeding" is sure to raise a few brows before it's breathed its last as the album's first single. Soon to be opening old wounds the world over, it's a catchy if angry track that single-handedly corners the animal that represents Punk Rock and invites it to come out fighting against the fashionable same song Pop scenesters of the day marketed as such. And then the same can be said for the other fourteen tracks waiting to dig their own claws in. "Money Infection" is another quick to addict with traditionalized sing-along verse that's hard not to agree with; "Exterminate!" is an intense rager that begins quickly and features plenty of bombast throughout; "Oblivion Stereo" is a Punk anthem in the tradition of the UK Subs or ANL.

Past potential did little to insure future success for the struggling ten year old LA-based project, which having garnered critical acclaim from fans and industry, were yet overrun by outside influences that threatened an early retreat for all their promising steps forward. And through it all, Amen is proof positive that perseverance-- and maybe a little prayer, pays off in the end! "Death Before Musick" is a fifteen track rallying cry dominated by dangerous dealings, bad feelings, and enough pent up energy exhumed to fuel another New York City blackout and Nader campaign.